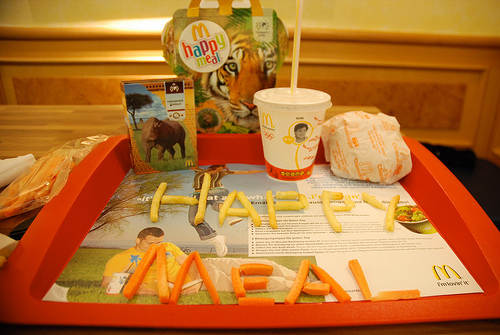 During the San Francisco Happy Meal dispute, McDonald's VP of Nutrition and Menu Strategy Karen Wells claimed that "…our Happy Meals are frequently more balanced than either school lunches or meals served at home." Ever since I read that, I've been wondering if it's true. I'm finally going to compare numbers to find out.
McDonald's Happy Meal vs. USDA School Lunch Program
While I don't know what meals everyone else serves at home, I do know the USDA requirements for the National School Lunch Program (section 210.10). The requirements have specific numbers for calories, protein, total fat and saturated fat, calcium, iron, vitamin A, and vitamin C. They also have vague suggestions like "plenty of grain products, vegetables, and fruits" and "moderate in salt and sodium". I'm going to use the requirements that were in effect at the time of the statement, rather than the proposed new rules from the recently passed Child Nutrition Act.
McDonald's has a nutrition list that has every possible combination a Happy Meal could have. A Happy Meal consists of an entree: four piece Chicken McNuggets, Hamburger, or Cheeseburger; a side: small french fries or apple dippers with low fat caramel dip; and a drink: 1% low fat white milk jug (8 fl oz), 1% low fat chocolate milk jug (8 fl oz), apple juice box (6.75 fl oz), or a soft drink (12 fl oz).
Comparing these two documents should give us some idea of how close Ms. Wells' statement is to fact.
Current School Lunch Requirements
The USDA school lunch regulations for kids in kindergarten through sixth grade – which is the age range Happy Meals are designed to appeal to – require at least 664 calories per meal with total fat providing a maximum of 30% of those calories and saturated fat providing a maximum of 10% of those calories. Only the Happy Meal consisting of a cheeseburger, french fries, and 1% low fat chocolate milk had enough calories to meet that requirement.
It could be argued that too few calories in the Happy Meal and the school could serve another item alongside it to meet calorie requirements, but the statement by Ms. Wells indicated that Happy Meals were already better than school lunches. Even so, I'll let this one slide for now.
Most of the Happy Meals had less than 30% of their calories from fat. The Happy Meals with cheeseburgers and fries had too much total fat. None of the Happy Meals containing cheeseburgers made it past the saturated fat test.
Protein, Calcium, and Iron
All Happy Meals met the minimum of 10 grams of protein.
The calcium requirement of 286 mg per lunch was met with varying amounts of success. None of the Happy Meals with a soft drink made it. The chicken or hamburgers combined with apple juice also did not contain enough calcium. The lowest was the chicken, fries, and soft drink combo at 20 mg of calcium.
Each school lunch must have a minimum of 3.5 mg of iron. None of the chicken meals had more than 1.5 mg of iron. This requirement also knocked out the hamburger and apple juice combos.
Happy Meal vs. School Lunch – How Are We Doing So Far?
After comparing total fat, saturated fat, protein, calcium, and iron, only two Happy Meals are left: the hamburger with small fries and either 1% low fat white milk or 1% low fat chocolate milk.
Vitamins A and C
The USDA also sets requirements for vitamin A and C. A school lunch must have a minimum of 15 mg of vitamin C and 224 RE of vitamin A. The McDonald's information uses IU to measure vitamin A. The conversion factor is 3.3 IU = 1 RE, so Happy Meals need a minimum of 739 IU of vitamin A to meet school lunch requirements.
Which Happy Meals met the minimum for vitamin A? Only the cheeseburger and milk combos (both chocolate and white milks) had enough. The rest of the meals fell far short of the minimum. The very worst was the chicken, fries, and either apple juice or soft drink combos with no vitamin A at all.
Happy Meals varied widely in their vitamin C content, ranging from 6 mg to 249 mg. All meals with either apple dippers or apple juice met the minimum.
Happy Meals for School Lunch?
In the end, none of the Happy Meal combinations were able to meet the minimum USDA requirements. Therefore, no, Happy Meals are not more balanced than a school lunch.
Image by happymealy, used with Creative Commons license.