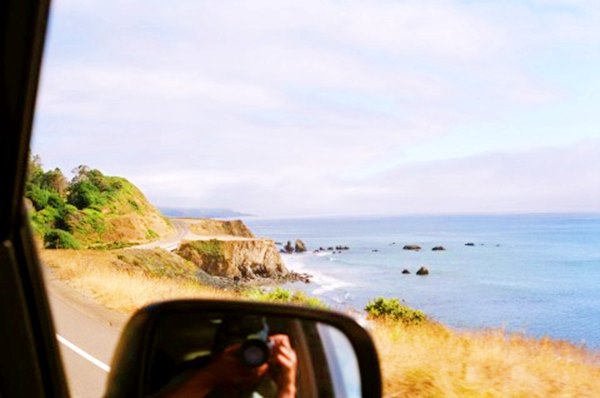 I love road trips! But I don't love fast food, gas-station junk, or being hungry. Traveling through our fast-food nation can be challenging for real-food whole-food vegan-food enthusiasts; but with a bit of forethought and planning, eating well on the road can be quick, easy, and delicious!
Plan Ahead
When it comes to eating well on the road, a little planning goes a long way. Don't wait until you're stranded in a fast-food wasteland far from home, to think about what's for dinner! Always have ready-to-eat snacks on standby, and pack quick food within easy reach — if you can't get to it easily, at rest stops or hotels, you're more likely to be hungry and cranky and less likely to enjoy being a travelin' vegan.
If you travel often, consider adding Vegan Unplugged to your cookbook collection. It's great for low-prep, fast, no-kitchen, one-pot cooking with easy cleanup: perfect for hatchback, rest stop, and hotel room cooking! Lipsmackin' Vegetarian Backpackin' and Backpack Gourmet also offer good strategies for travel cooking, with many vegan/ vegetarian or easily veganizable recipes.
Port-a-Kitch
A basic 'traveling kitchen' bag might include non-breakable plates, small strainer (for rinsing beans or draining noodles), a medium-sized saucepan with folding handle, medium Pyrex or BPA-free plastic bowl (for hotel or gas station microwaving), backpacking-style flatware, small cutting board, cloth or paper napkins, and a medium sized folding knife.
Throw in whatever spices you use most — my basics include small plastic spice jars (or freezer-strength Ziploc bags) of salt, organic sugar, Old Bay or other Cajun-style seasoning, dried chipotle powder, and organic tamari (or Bragg's Liquid Aminos). I also like agave syrup for spreading on bagels or mixing with peanut butter for pretzel dip, but don't pack it in a flip-top container! I use baby-food jar or recycled spice jar, inside a ziplock baggie: don't risk sticky syrup spills all over everything else you pack! Sesame oil is also good to pack this way — just a tiny bit adds tons of flavor to rice or noodle dishes.
I like to pack camp soap for dish cleanup, in case I need to wash up somewhere besides a contained sink. I also fold 8-10″ squares of aluminum foil into quarters and slip them into kitchen-bag pockets, for storing leftover avocadoes, ginger, lemons, etc. between meals.
Small camp stoves like this one also come in very handy, to exponentially expand your travel-cooking horizons! If you're going more than one or two nights on the road, I definitely recommend finding room in the trunk for at least a small backpacking stove — if you have some way to boil water wherever you are, your food fortunes are assured.
Whenever you're on the road, be sure to pack more water than you think you'll need; not only does it come in handy for drinking, but you'll need it for cooking and cleanup. I also like to pack an assortment of tea bags and coffee bags — either with stove-boiled water or hot water from gas station coffee machines, plus my Thermos coffee cup, I have all the coffee or green tea I like without any extra convenience-store expenses (or disposable-cup waste).
Throw a headlamp or small lantern in your kitchen bag, in case you need a light for food prep, and be sure to load your car-kitch bag within easy reach — when you're traveling, if you can't find it you don't have it.
Depending on the length of your trip, you may or may not want a fully loaded car-kitchen… but with these tools you'll be ready for anything!
Road-Trip Pantry
When packing food for a cross-country car trip, include these things for fast-easy-healthy vegan nom:
1. Tortillas, bagels, flatbreads — avoid loaf bread or rolls, and go for the nonsquishable varieties. Peanut butter (or peanut butter – agave blend), canned refried beans and salsa, or seasoned and mashed canned chickpeas with olives all make tasty no-fridge wraps and sandwiches.
2. Nuts and trail mix — Peanuts, cashews, almonds, walnuts, Brazil nuts, pepitas, and sunflower seeds all offer easy and nutritious eat-and-drive snack options. Make your own trail mix by combining your favorite nuts, seeds, dried fruit (such as cranberry, mango, and pineapple), and vegan chocolate chips. Throw in some candied ginger and large coconut flakes for a tropical flair. If you buy pre-packaged trail mix, be sure to read food labels carefully to avoid unwanted animal junk — as always!
3. Bars — Clif bars and Larabars offer some great vegan options, great for a no-hassle breakfast or snack while you drive; or make your own before leaving for your trip.
4. Chips, crackers, pretzels — when dipped in peanut butter-agave dip, dehydrated/ reconstituted hummus or bean dip, or single-serve salsas, these make a filling snack. You can also make easy roadside-pic-nic nachos, with rinsed black beans, chopped avocado, and salsa or green chiles over chips. If you have a dehydrator, it's easy to make zuchini or sweet potato or kale chips before traveling, for quick low fat snacking on the road. To make potato chips with a dehydrator: season mashed potatoes to taste, then use water or veggie broth to thin mixture to a barely-pourable consistency. Spread mixture very thinly on parchment paper in the dehydrator, dry at about 125 degrees for 8-10 hours, and then break into chip-sized pieces. Store in airtight bags or containers.
5. Rice and noodles and couscous, oh my! — Glass noodles or Ramen- and Udon-style noodles cook very quickly and offer versatile Asian-style nom. Couscous only needs soaking in boiling water for about 5 minutes, then you can toss it with olives, artichokes, lemon juice and salt for a tasty Greek-style dish. Canned black or pinto beans, quick-cooking brown rice, and a 4-oz. can of salsa (plus chipotle powder, if you like it spicy) makes a tasty burrito filling.
Tailgate-Chef Thai Noodles:

Mince about a teaspoon each of fresh garlic and ginger, and add to uncooked Ramen, Udon, or cellophane noodles in saucepan. Cover dry noodles with about 2″ water, and use camp stove to boil until noodles are tender (according to package directions — often less than 5 minutes). Add 1 drained can of lo-mein veggies or baby corn during the last minute of cooking. While noodles cook, in a cup or bowl stir together tamari, peanut butter, and Sriracha sauce, to taste. Drain noodles/ veggies if needed, toss with peanut sauce, and top with roasted peanuts or cashews.
6. Some fresh fruit and vegetables travel well — apples, pears, oranges, mangoes, and avocadoes are pretty sturdy, and add fresh deliciousness to your travel menu. Onions, shallots, garlic, and ginger also need no refrigeration and add tons of flavor to camp- (or hotel-) based hot-plate cooking. One or two lemons or limes add fresh yum to rice or noodle dishes, as well as to tea or water.
7. Canned and jarred sustenance — beans, chickpeas, salsa, sun-dried tomatoes (still dry or packed in oil), green chiles, artichokes, coconut milk, hearts of palm, olives, lo-mein veggies, water chestnuts, and peanut butter offer versatile menu options — toss in various combinations with noodles, rice, or couscous and season with contents of your spice bag, for a variety of fast-and-easy hot-plate nom. Mix crushed or chopped walnuts with chopped olives and artichokes, then season with salt and lemon juice, for a tasty and filling bagel-topping tapenade.
8. Microwave meals — if you can find them, Tasty Bites makes some delicious 'fast-food' Indian options, with 90-second brown, basmati, or jasmine rice. They're designed for easy microwave cooking, but can be adapted easily to camp-stove cooking: just add a splash of water to rice in a saucepan, top with the entrée, and simmer until it's heated through and the rice is tender (about 2-5 minutes). Not all their varieties are vegan, but many are — and (especially with a dash of Sriracha and/ or a squeeze of fresh lemon or lime juice), these meals are pretty aptly named!
9. One-pot quickie dishes — canned or boxed vegan soups and stews make a almost-no-effort dinner, with the help of a microwave or camp stove. Amy's Kitchen offers some great vegan options — if you can spice 'em up with chipotle pepper, curry powder, fresh lime juice, or other yum from your spice bag, all the better!
10. When you must: restaurant navigation. Maybe you're traveling with someone inflicting the peer pressure; or maybe you just absolutely don't feel like doing any food prep a'tall. It's possible to find vegan fare at some national restaurant chains, or you can use Happy Cow to search for veg-friendly restaurants wherever you are.
If you're at a non-vegan restaurant, though (or one without a menu specifically including vegan options), remember to approach the ordering process with a healthy degree of skepticism: don't be shy about very politely asking about frequent contaminants like lard in the refried beans, chicken broth in the rice, or all the dairy things (sour cream, mayo, etc.) that might otherwise appear on your veggie wrap uninvited. I also recommend a thorough visual check before chowing down — unfortunately sometimes ingredient separation is a problem, and animal bits can get dropped into veggie food unintentionally on shared workspaces. Greek and Ethiopian restaurants tend to be very vegan-friendly, if you can find them; Moe's, Chipotle, Noodles & Co., and P.F. Chang's offer delicious vegan fare; and vegan/ vegetarian restaurants are becoming easier and easier to find!
Happy (Vegan) Trails!
Eating well on the road takes a bit of forethought and preparation, but — like eating well when you're not traveling! — it's definitely worth the effort!
These are just a few of my favorite road-trip foods… what are yours?
Image by the author, all rights reserved.