Make warming, calming yogi tea from scratch. You can tweak the recipe to suit your tastes!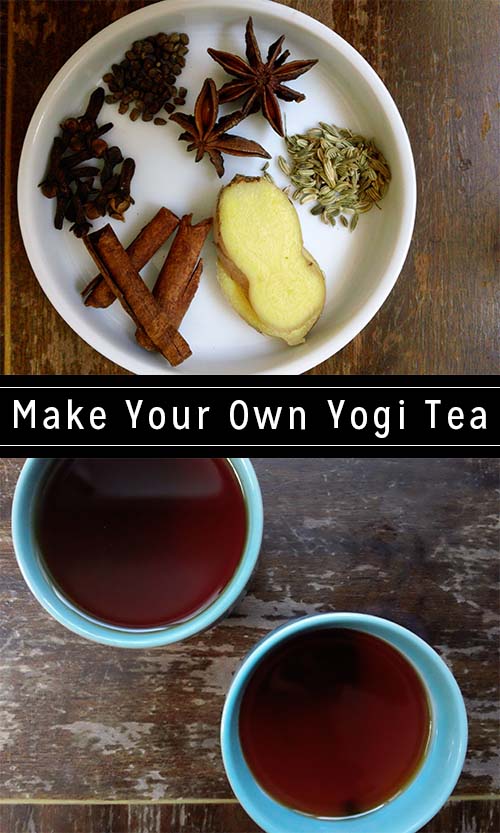 A couple of months ago I attended an Ayurvedic cooking class with some yoga teachers and friends. The teachers have been practicing yoga, meditation, chanting and Ayurvedic cooking for many years and had a wealth of knowledge to share about this lifestyle, including recipes like this amazing yogi tea.
Ayurveda is considered the 'sister science' to yoga, both practices that can help bring balance to the body and mind. Ayurveda looks at the body as having various constitutions, known asdosha. The three dosha are pitta, vata and kapha, and most of us are a combination of at least two of these. Including certain foods into our diets can help us balance our dosha and feel better everyday.
Related: 10 Health Benefits of Drinking Tea
In the class we learned three recipes that are foundational to Ayurvedic cooking: homemade ghee (clarified butter), kitchari (a balanced combination of rice and lentils) and a spiced yogi tea, which I really loved. The other recipes were good too, but the yogi tea was a magical combination that I immediately adopted into my daily life.
The Ayurvedic yoga tea is made from a mixture of warming spices and just a bit of black tea, and it can be served plain or sweetened with maple syrup and some coconut milk. It is delicious and warming, and can be beneficial to all three dosha. According to Vanice Medley, who taught the cooking class with her partner Mark, this yogi tea "Promotes health, strengthens & tonifies the nervous system, energizes the body, clears & calms the mind, cleans the blood, promotes digestion, soothes & lubricates joints, cleanses liver, keeps spine and cerebrospinal fluid healthy, and is both a remedy and preventive measure for colds, allergies, and other illnesses."
This recipe is the version I've been making at home, which is based on her recipe. I like to add a little fennel seed at the end, and I often use red tea instead of black to keep it caffeine-free. I also really like to use some coconut milk at the end to make it soft and creamy. I'm literally drinking it as I type this post! This tea is a great replacement for coffee or for any type of processed drink you might have around the house. The spices are warming and cleansing, and it just tastes amazing for this time of year or always.
Homemade Yogi Tea
Ingredients
1-inch piece ginger, sliced thinly
4-6 whole cardamom pods, cracked
4-6 whole black peppercorns
1 cinnamon stick
3-4 whole cloves (do not overdo it with the cloves or it will taste like mouthwash)
a few fennel seeds
4 cups filtered water
black, green or red tea (optional)
maple syrup or coconut sugar (optional)
coconut or other plant-based milk
Directions
Add ginger, fennel, cardamom, peppercorns, cinnamon and cloves to a saucepan. Cover with 4 cups of water and bring to a boil. Cover, lower heat and simmer for one hour.
Remove lid, add a pinch of tea if using, and let stand five minutes. Yogi tea can be enjoyed immediately, but can also be steeped overnight or all day.
Before serving, stir in a few drops of your sweetener of choice and coconut milk. That's it!