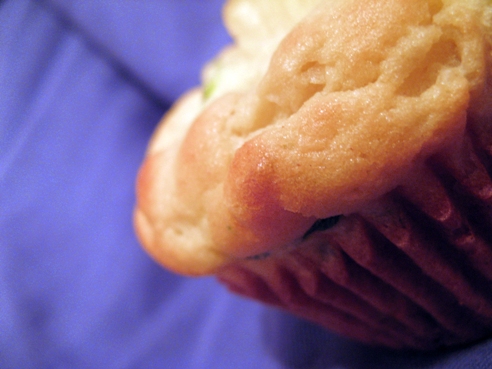 Of the adjectives used to describe gluten-free baked goods, the word "fluffy" rarely makes the cut.   Heavy,  solid, crumbly, dry — yes, any and all of those. Those of us living sans gluten have gotten used to the slice-and-toast routine when it comes to wheatless breads.  Fresh-out-of-the-oven-fluffy has all but vanished from our vocabulary. These fruit-sweetened beauties, though, change all of that.
For starters, the batter actually rose above and beyond the baking tin's edge.  When's the last time you remember anything gluten-free doing that? These muffins even manage to disguise shredded fruits and vegetables without coming anywhere near the dreaded dense description.
Goodbye flat, vaguely muffin-shaped globules.  It's time to move on.
Generally, I dislike cooking within the constraints of a measured recipe.  For me, cooking and baking is all about substitution and experimentation with new ingredients and flavors, so I don't often prepare the same recipe the same way twice. But when fluffy cakes like this emerge from the mess in the kitchen, I just might make an exception!
Fruit-Sweetened Pineapple Muffins [Gluten-free, Wheat-Free, Dairy-free, Corn-free]
In a large glass or stainless steel mixing bowl, whisk —
1 c. white rice flour
1 c. soy flour
1/4 c. tapioca starch/flour
1/2 t. sea salt
1 t. baking powder [Use a corn-free variety; standard baking powder contains corn starch]
1 t. baking soda
Using a grater, shred the following into the dry ingredients —
1 organic apple (Note: Apples are on EWG's Dirty Dozen; best to buy organic!)
1 medium zucchini

Toss together with the flour mixture together until each shred is coated.  Don't skip this crucial step.  Coating the shreds with flour keeps the apple and zucchini from sinking to the bottom of the batter and prevents a gummy layer from forming in each muffin.
In a smaller glass bowl, beat the following items together with a fork or whisk.
2 large organic eggs
1/4 c. good quality oil of choice
3/4 c. pineapple juice
1/4 c. pear juice (I used Santa Cruz Organic Pear Nectar)
Combine this mixture with the remaining ingredients in the larger bowl. Mix just until no pockets of flour remain in the batter.  Fill each lightly greased muffin tin* three-quarters full and place a single pineapple chunk on the top. Bake at 375 F for 12-20 minutes.  Edges of muffin will be golden when done.
Yields 12 muffins. Each one contains 4 grams of protein — when served with a delicious nut butter, the protein increases to 12 grams.
*Note: Don't use a non-stick pan.  Not only do these coated pans give off toxic, fertility-reducing chemicals at high temperature, their non-stick nature also prevents gluten-free baked goods from rising properly.
Enjoy!
—
Image is the author's own.