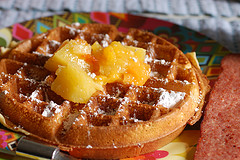 If you've ever seen an episode of the canceled Nickelodeon show Invader Zim, you'll undoubtedly know that Zim's robotic pet, GIR, loves waffles.  He always seems to be cooking up a batch of them at the most inopportune moments.  As my fridge never seems to be without a ready-to-go bowl of waffle batter, I can definitely relate to GIR's waffle obsession.
But unlike GIR, who has only a vague idea of what he's put in the batter (What's in 'em?" Zim asks in one episode.  "There's waffle in 'em," GIR responds), I can vouch for every single corn-free, gluten-free, dairy-free, wheat-free ingredient.  Plus, the recipe is so versatile, you can practically customize the waffle to your morning mood.
My family has been making "rice waffles", as we affectionately call them, for years now.  The recipe has evolved somewhat over the passage of time and in the interest of a better waffle — and I think each family member has developed their own twist on what is now a Saturday-morning tradition.
Basic Gluten-Free Waffle Recipe
1 1/2 cups rice flour
1/2 cup tapioca flour/tapioca starch
1/2 teaspoon baking soda
1/2 teaspoon baking powder (use a brand without cornstarch if you have a corn allergy)
1/2 teaspoon salt (use non-iodized if you have a corn allergy)
2 tablespoons ground flax meal
1 tablespoon raw honey or granulated sugar (use beet sugar if you are corn-sensitive, since sugar cane is closely related to corn)
3 large eggs, preferably organic
1/3 cup coconut oil (briefly warmed over the stove top to melt into liquid state)
1/3 cup applesauce (unless homemade, this can be problematic if you have a corn allergy.  Use pureed pumpkin or sweet potato instead)
1 1/2 to 2 cups rice milk or soy milk (I use an unsweetened, one-ingredient, organic soy milk)
Whisk together dry ingredients. In smaller bowl or glass measuring cup, beat the eggs, oil, applesauce, and rice/soy milk, then mix into dry ingredients until a smooth batter is formed.  You'll want to start with 1 1/2 cups of the non-dairy milk, then increase to 2 cups if needed.
Cooking times will vary, as every waffle iron is different.  If you're baking for a group, keep the cooked waffles in a 170F oven until you are ready to serve them.
For toppings, set out a combination of nut butters, local raw honey, pure maple syrup, and fresh fruit. My personal favorite is agave nectar, which is naturally low-glycemic and won't spike your blood sugar the way so many other sweeteners do.
I am willing to bet there won't be any leftovers — but if there are, you'll be delighted to know that these are fabulously freezer-friendly.  Alternately, you could make am entire batch of these ahead of time, and then revive the individual sections in the toaster on a busy morning.
Variations
Don't stop at just the basic recipe.  There are so many variations to jazz up the flavor — try one of the following, or invent your own.
Almond
If nut allergies aren't a problem for you, try tossing in 2 tablespoons of ground almonds. I have a small coffee grinder I use specifically for pulsing raw almonds whenever I want to add extra flavor to baked goods.  Plus, almonds offer much-needed healthy fats as well as antioxidants.
Anise
Mix 1/2 tablespoon of dry anise seeds into the batter to give the waffles a snazzy, licorice-like flavor reminiscent of the Italian pizelle. Anise seeds are known to ease digestion.
Chocolate
Whisk 1/3 cup unsweetened pure cocoa into the dry ingredients.  Note that you may have to add a splash more liquid to the batter.
Pineapple
1/3 cup or so of crushed pineapple will add a tropical twist, especially with the subtle hint of coconut provided by the coconut oil. Keep in mind that if corn allergies are an issue, you'll need to find a brand of canned pineapple without citric or ascorbic acids.
Pumpkin
Substitute 1/3 cup pureed pumpkin for the 1/3 cup applesauce, and add pumpkin-pie spice. If you don't have pumpkin-pie spice, use a combination of powdered ginger, allspice, cloves, and cinnamon.  Not only does this add a festive flavor, the pumpkin also will boost your beta-carotene intake.
Have you discovered a variation that I didn't mention above?  Let us know in the comments section!
—
Image via jslander on Flickr under a Creative Commons license.