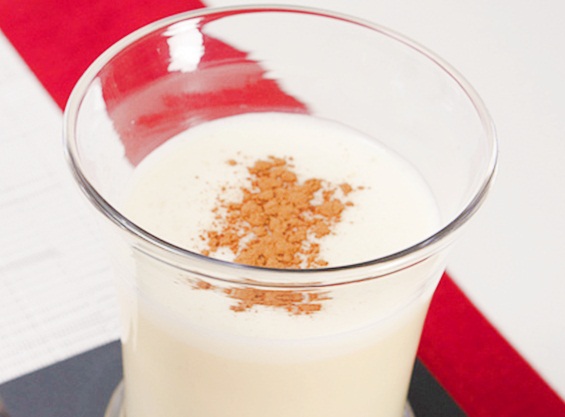 Need some nog, to sip between Christmas carols? Prefer cholesterol-free and cruelty-free holiday treats? Try this creamy cocktail for some traditional eggnog deliciousness, vegan-style. Cheers!
Ingredients
3/4 cup soy or almond (or other nondairy) milk
1 frozen banana
3-4 ice cubes
1/4 teaspoon ground cinnamon
1/8 teaspoon ground nutmeg
1 teaspoon raw or turbinado sugar (or other natural vegan sweetener such as agave or maple syrup)
1/4 teaspoon real vanilla extract
1 tablespoon chia seeds (optional, but adds thickness and nutrition to your nog!)
1-1/2 ounces rum, brandy, or bourbon (optional)
Directions
Stir chia seeds into the nondairy milk, in your blender, and remove banana from freezer. Go do something else for about 5 minutes. Then peel banana, break it in half or thirds, and add it to the blender, along with all other ingredients. Pulse a few times to break up ice, then blend on highest setting until smooth.
Enjoy!
Repeat as needed. Happy Holidays!
Image credit: Creative Commons photo by Dinner Series.