I dedicate this recipe to my lovely mum, whose homemade chicken salad filled my childhood sandwiches — but who now eats vegan. Same wonderful flavor, same tasty lunch-box happiness… no chickens needed!
Ingredients
2 blocks extra-firm tofu, drained and pressed (about 2-1/2 to 3 cups diced)
3-1/2 cups unchicken broth
1 cup diced green bell pepper
1 /2 cup diced celery
1/2 cup minced red onion
2 tablespoons diced dill pickles (or 1-1/2 tablespoons sweet pickle relish)
2 tablespoons yellow mustard
3/4 cup vegan mayonaise
1/2 teaspoon salt (or to taste)
1/2 teaspoon pepper (or to taste)
Directions
Toficken:
Cut tofu blocks crosswise to make 8 slices. In 9″ x 13″ casserole dish, cover tofu slices with unchicken broth; marinate at least one hour, and preferably overnight.
I prefer the dehydrator method, but if you don't have a dehydrator, the Toficken slices bake up pretty nicely too.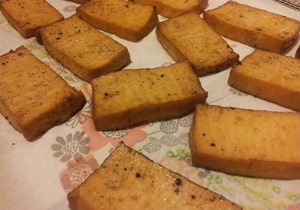 dehydrator method — drain marinade from tofu slices, and place in dehydrator on parchment paper, in a single layer. Set at 150 degrees and dehydrate for 6-7 hours, flipping slices once if possible.
oven method — preheat to 300 degrees F, and line 10″ x 13″ baking sheet with parchment paper (or oil well). Place tofu slices on pan in a single layer, with slices not touching each other. Bake 1 hour; flip slices with spatula, then bake for 1 more hour.
With either method, let Toficken slices cool completely before using in salad.
Salad:
In a large bowl, combine all ingredients except tofu and stir well to combine.
Chop cooled Toficken into 1/2″ to 1″ cubes. Gently stir into other ingredients. Taste and adjust salt and pepper, as needed. For best flavor, chill at least one hour before serving.
Production Notes
If you haven't considered getting a dehydrator before now: I recommend it! They're great for all kinds of things, from low-effort toficken to tofu jerky to kale chips to fruit leather to cashew yogurt… All the reasons why I love my dehy probably deserve a dedicated post; for now, suffice it to say I can no longer live without it, and recommend such purchase to anyone who likes cooking and eating!
Whether you use a dehydrator or oven-baking for the tofu, this make-from-scratch salad does require a bit of prep — I think it's totally worth the effort! But to shorten prep time, you can use Better Than Bouillon No-Chicken Base in the marinade instead of homemade broth; and use a food processor for all the chopping. If you use prepared vegan chickenless broth in the marinade, watch your sodium — you'll need to add less salt to the marinade and/ or finished salad.
I love the cashew-based mayo from Vegan on the Cheap, which is sort of similar to this one — that's a good cookbook overall; and for me it's probably paid for itself several times over, with just that recipe! To me it tastes just like Vegenaise, which is what I recommend if you're buying mayo vs. making it yourself.
You can also use prepared vegan chik'n strips, but I think the tofu is tastier-enough to be worth the prep time! If you do the tofu a day before you need it, and use a food processor for chopping, the salad comes together without too much trouble.
Since pesticide is NOT a desirable ingredient in this salad, I recommend organic bell pepper, celery, and onion; and until we get fair and accurate GMO labeling in the US, the only way for consumers to avoid GM soy in tofu (and other soy stuff) is by shopping organic. Submitted for consideration!
Serve Toficken Salad over fresh greens, with sturdy crackers as dip, in a pita, or on toasted bread (preferably along with fresh spinach leaves) for a delicious sandwich.
NOM!
Images by the author.