My birthday was last week, and on Saturday, a friend and I spent the afternoon making cupcakes for the party that night. We made two sorts of vegan cupcakes: smoky tempeh with chocolate frosting and hummingbird with cream cheese frosting.
We used the hummingbird cupcake recipe from Kitchen La Boheme with just a few changes:
Added 1c chopped pecans to the batter.
Baked for 22 minutes instead of 25-27. You want a toothpick to come out clean, but you don't want to overbake. Start with 22 minutes, and test every couple of minutes until they're done.
Topped the frosted cupcakes with cinnamon and a vegan marshmallow.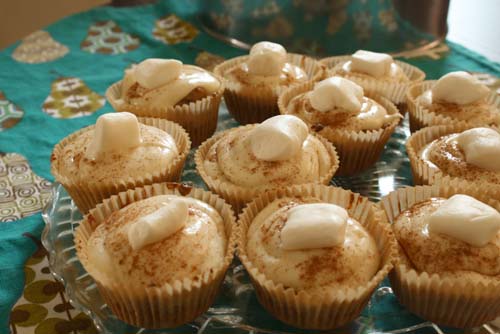 They came out great! I thought the marshmallow at the top gave them a real Southern flair…sort of an ambrosia salad-type feel!
The tempeh cupcakes took a bit more adapting, so I'm going to include the whole thing here for you guys.
Smoky Tempeh Vegan Cupcakes with Chocolate Frosting
Adapted from Yummytime.
Prep time: 20 minutes
Cook time: 20 minutes
Total time: 40 minutes
Yield: 18 cupcakes
Ingredients
3/4 c

margarine

1c

vegan sugar

1 1/2c

cake flour, sifted

1 1/2t

baking powder

1/4t

salt

1/2c

almond milk

3/4t

vanilla extract

EnerG Egg Replacer

for 3 eggs, liquid included

1 package

Fakin' Bacon, chopped

1T

olive oil

2T

brown sugar

1/2c

non-hydrogenated vegetable shortening

1/4c

margarine

6T

cocoa powder

2t

vanilla extract

up to 1/4c

almond milk
Cooking Directions
Preheat the oven to 350F.
Combine the first 8 ingredients plus one cup of the tempeh and mix until smooth.
Pour the batter into a lined cupcake pan, filling each liner 3/4 full, and bake for 20 minutes, or until a toothpick inserted into the center comes out clean.
Meanwhile, heat the oil in a small skillet and sautee the leftover Fakin' Bacon with the sugar for a few minutes, until browned. Set aside to cool.
Whisk together the shortening, the 1/4c margarine, cocoa powder, and vanilla extract until there are no lumps. Add the almond milk 1T at a time, until you get a nice, stiff frosting.
Once the cupcakes are cool, frost each one and top with a couple of pieces of the Fakin' Bacon.