When you're operating outside your normal kitchen habits — maybe on a long road trip, or spending the weekend with omni inlaws, or (egads and GRR!) trying to eat well in a markedly un-vegan hospital-type setting — quick and easy nutrient-dense food is a must! This vegan recipe fits the bill when you need real food real fast, and don't have the time or supplies for full-meal food-prep. Pre-made and stored in airtight bags or containers, these raw crackers keep for several weeks… I'm not sure exactly how long, since my family keeps eating them all up. But anyway: enjoy!
Ingredients
3-1/2 cups water
1 cup raw sunflower seeds
3/4 cup raw walnut halves and pieces
1/2 cup raw pine nuts
1/2 cup chia seeds
1/2 cup flax seeds
1/3 cup nutritional yeast (up to 1/2 cup, to taste)
1/2 teaspoon garlic powder
1/2 teaspoon onion powder
1/4 to 1/2 teaspoon salt, to taste
1 Tablespoon tahini
1 Tablespoon rice vinegar
Directions
Soak sunflower seeds, pine nuts, walnuts, chia, and flax seeds in the water for 6-8 hours, or overnight.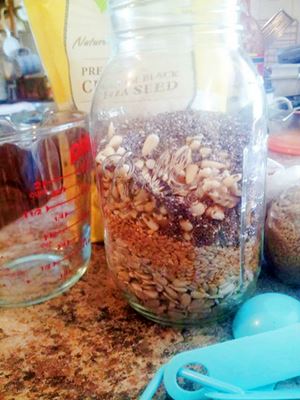 Transfer soaked nuts, seeds, and water to blender container. Add remaining ingredients, and puree until fairly smooth — some seeds will still be visible, but the mixture should be smooth enough to spread thinly.
Ladle the mixture onto parchment-paper-lined dehydrator trays and spread about 18″ thick, making sure to spread it to a uniform thickness. Dehydrate at 145 degrees for about 8 hours, or until very dry and crisp. Break sheets into large or small cracker- or chip-sized pieces, and store in an air-tight container.
Production Notes
This recipe makes just the right amount to fill all trays of an Excalibur dehydrator — about five 12″ x 12″ sheets. The thinner you spread it, the more the crackers resemble crisps or chips; a thicker sheet makes more of a flatbread-type cracker.
Feel free to substitute nuts and seeds as needed, depending on what you have on hand — sesame seeds for pine nuts, almonds for walnuts, Brazil nuts for walnuts… the combinations are almost endless, and each offers a slightly different (nutritious and yummy!) flavor profile.
For a spicy version of these Nutty Snackers, add (to taste): cayenne pepper, Old Bay seasoning, Tabasco, whole mustard seed, or 1/2 to 1 Serrano pepper.
For smoky-cheddar style crackers, add about 3/4 teaspoon smoke flavoring, 1 tablespoon prepared yellow mustard, and an additional 1/3 cup nutritional yeast.
If you're a kale-lover like myself, try adding 1-2 large de-ribbed kale leaves to the shenanigans, for a delicious 'green monster' type cracker. If you try this modification, cut water to 3 cups and walnuts to 12 cup in order to avoid overflowing your dehydrator.
The good thing — correction: one of the bazillion good things! — about vegan cooking is that it's always okay to taste the batter first. Definitely take advantage of this tendency! But be aware that the finished product will be a bit more strongly seasoned than the batter, once the moisture is removed. Don't over-spice yourself!*
*Unless you like being over-spiced. ;-)
Thank you…
… to the person who inspired this recipe, by bravely daring the modern medical world to accept her raw vegan ways or be darned. You know who you are — be well, friend!
Image by the author, all rights reserved.