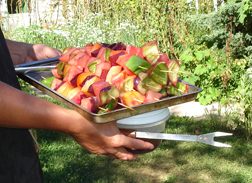 Hard to believe with this balmy weather we've been experiencing out here in the Midwest, but really, truly, Thanksgiving is around the corner.  But even though there's a chill somewhere heading our way, don't pack up the grill.  Break out of the traditional root vegetable recipe box and break out the grill one last time this season  with some unique kabobs as a Thanksgiving side dish.  
I confess:  I'm on a personal quest to generate a little respect for root vegetables.  Easy to grow and store and with a decent serving of nutients, sometimes root crops need a little spiffying up with a dash of flavor and presentation value to earn some appeal.
Kabobs make a particularly easy dish as all the marinating and prep work can be done beforehand. All you need is to quickly roast them on the grill before serving.  Make a hearty batch as this flavorful tak approach to root crops adds up to tasty leftovers.  Grilled beets, turnips and rutabagas taste surprisingly good cold and also work great on an open-faced sandwich with grilled cheese on top.
Grilled Root Vegetable Kabobs
Ingredients:
Approximately 8 c. of peeled root vegetables or other vegetables cut into one-inch chunks (make sure the chunk is big enough to skewer onto a kabob stick).  Experiment with different types of root crops, like roots, beet and turnips.  Feel free to add in vegetables other than root crops, such as pepper and cherry tomatoes.
1 16 oz. jar Italian salad dressing
1 t. garlic salt
1 t. marjoram
1 t. thyme
Wooden skewer sticks
Directions:
Boil the root crops under tender but not mushy (you need to pre-cook the root crops before grilling as they will not fully cook on the grill)).  It is best to boil the beets separately, otherwise they will color the other vegetables purple.  You do not need to pre-cook vegetables other than root crops.
Mix together salad dressing, garlic salt, marjoram and thyme.  Feel free to experiment with other seasonings.
In a large bowl, mix vegetables and marinade.  Let sit for several hours or overnight in the refrigerator.  Stir often to help marinade reach all vegetables.
Soak wooden skewer sticks in water for one hour.
Skewer vegetables, aiming for a colorful variety of vegetables on each stick.
Grill until hot and cooked through.  Baste with remaining marinade.