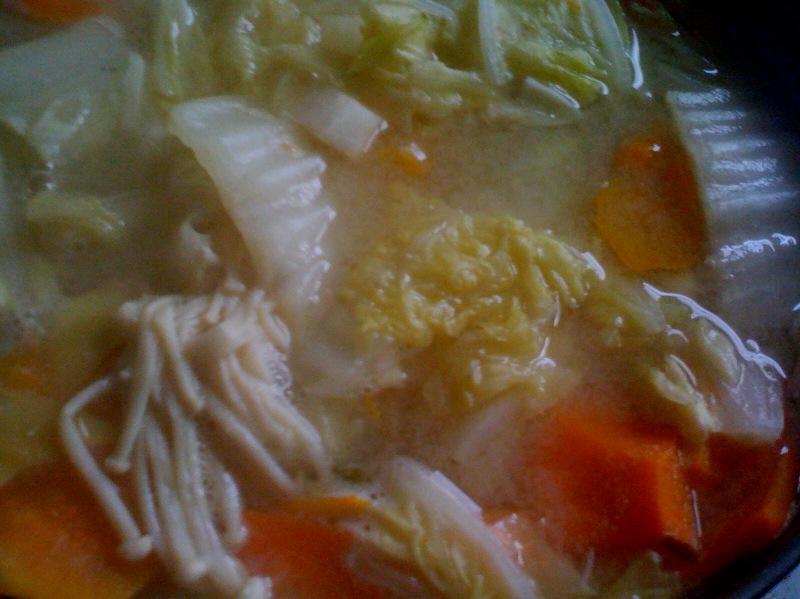 Weeks ago I wrote "The Healing Dish: Shiitake Mushrooms and Organic Baby Bok Choy" and now I have a new healthy meal to share.
The other evening for dinner we enjoyed this soothing organic miso soup stewed with fresh ginger and sweet potato, carrots and delightful enoki mushrooms.
Healing ginger imparts a sweet, tangy, yet delicate flavor that soothes and delights the tummy. Sweet potato is a nice stew vegetable and enoki mushrooms have a soft texture and delicious mild flavor. Carrots and sliced fresh sweet potatoes (or yams) make this miso very hearty.
Here is the recipe for this organic miso stew, along with a list of the healing properties each ingredient provides:
Organic Miso, Ginger and Sweet Potato Stew
Ingredients
1 tablespoon (or to taste) of

organic miso to one cup water: Organic Miso soup contains magical healing microflora that aid in digestion and promote vitality.
4 (or more) thin slivers of fresh sliced organic ginger: Fresh ginger root gives a refreshing tangy taste to the soup. Ginger is known to help digestion, improve circulation, sooth the stomach and calm nerves.
1 bunch of fresh organic enoki: Enoki Mushrooms are known to help the immune system and be anti-viral and anti-bacterial. Research has shown Enoki may be another medical breakthrough food that treats certain types of cancer. Enoki is also both blood pressure and cholesterol lowering.
1 organic carrot: Carrots are packed with Vitamin A for your magnificent eyes.
1 small organic sweet potato thinly sliced: These are filled with complex carbohydrates, dietary fiber, iron, clacium, vitamin A, vitamin C, and vitamin B6.
Cooking Directions
Bring a few cups of water to boil, add all the ingredients (except the miso) and boil until the root vegetables reach desired consistency.
Remove from heat and allow the soup to cool a bit.
Once the vegetables have cooled, drain about a cup of the water, splash in a little cool water and add the miso. Miso has living active micro-flora cultures (healing enzymes for intestinal health) that flourish closer to body temperature. Waiting to add the miso until the end will increase the amount of healing nutrients in the dish.
Firm sliced organic tofu and nori seaweed with organic brown rice all compliment this soup deliciously. Brown rice is a fabulous form of fiber and Nori is an excellent source of iron, calcium, vitamin A, B, C1, protein and iodine.
"Itadakimasu" (the Japanese word for "bon appétit"), time to enjoy!