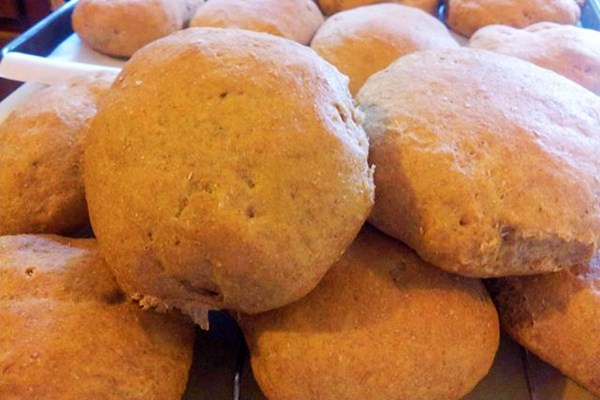 Once you start making your own bread, it's totally addictive: the store-bought kind just can't compete. This vegan wheat roll recipe works wonderfully for sandwiches or garlic bread, but (like any potentially addictive substance) should be used responsibly!
Super-Nom Wheat Roll Ingredients
1 Tablespoon plus 1 teaspoon active dry yeast
1 Tablespoon organic sugar
1 cup warm water
2 cups unbleached all-purpose flour
3-1/2 cups whole wheat flour
2 teaspoons salt
2 Tablespoons molasses
2 Tablespoons agave
2/3 cup extra-virgin or light olive oil, or Oil Free Oil (or 1/3 cup of each)
Directions
Mix yeast, sugar and warm water in a medium mixing bowl; set aside to proof for about 10 minutes.
Mix dry ingredients in a large mixing bowl, stirring to combine well.
Add oil (and/ or Oil-Free Oil), molasses, and agave to proofed yeast mixture, and stir gently to mix. Add wet ingredients to dry ingredients, and knead for about 10 minutes. Return kneaded dough to large mixing bowl, dampen top with moistened palms, cover loosely with foil, and let dough rise in a draft-free place for 30 to 40 minutes.
Line two 10 x 13″ baking sheets with parchment paper, or oil well.
Punch down dough, and knead for another 2-3 minutes. Divide dough in half, then use each half to form 8 rolls about 4-5″ diameter and about 1″ to 1-1/4″ thick (16 rolls total), placing rolls on the cooking sheets as you go.
Moisten tops of rolls with damp palms, and let rise another 30 minutes. During the last 5 minutes of rising time, preheat oven to 325 degrees Fahrenheit.
Bake 20 minutes at 325, or until they pass the toothpick test. Place pans on cooling rack and cover with a clean dry towel until they cool to room temperature, then transfer to an airtight container for storage. Rolls keep well for several days on the counter-top, a week or so in the fridge, and several weeks in the freezer.
Slice horizontally for sandwiches, or vertically for bread toasties — if you're feeling indulgent, slather with vegan butter and roasted garlic and toast just til the edges are crunchy…
"MMMMMMMMMMMMMMM!!!" — everyone in my household. :)
Enjoy!
Image by the author, all rights reserved.