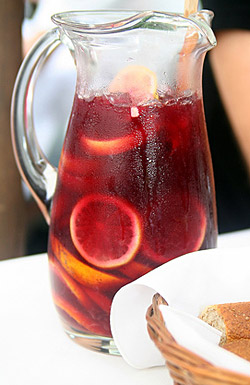 Summer is my favorite time of year. The days are long and perfect for hiking, traveling, going to the beach, or just sitting on the porch. And summer is the season of my favorite fruits: berries, plums, and melons! I grew up picking huckleberries every summer in Idaho and am always on the lookout for wild berries. Free, fresh-picked fruit is always the tastiest, and wild blackberries and plums happen to be just ripening for the picking where I live on the Mendocino coast of California.
We took a walk to the beach the other day through an orchard overflowing with ripe plums. Further on, the path was lined with tall blackberry bushes. Needless to say, we had an excess of blackberries and plums for a while. Add to that the fact that a local organic wine was on sale this week, and I naturally just had to make sangria!
My sister lived in Spain for a semester last year, and I had some amazing sangria when I went there to visit her. Of course she knew a recipe for sangria, which the one below is based on. (Thanks sis!) So, with a little local foraging, some fresh-picked seasonal berries, and some local wine, I made a yummy summer drink that can be adapted for any kind of fruit that's in season.
Summer Sangria
1 bottle red wine
2/3 cup fresh squeezed orange juice
1/2 cup fresh squeezed lemon juice
1/4 cup fresh squeezed lime juice
1 cup water
3/4 cup sugar
+ oranges, lemons, lime, apples, berries, or any seasonal fruit
Heat the water in a saucepan, add sugar, and stir until dissolved. Mix sugar water with all juices and wine in a glass pitcher. Slice fruit into small pieces and let them sit in mixture for a few hours, preferably in a fridge. If you want a little more kick, add about 1/2 cup of rum. Sangria is delicious served in huge wine glasses along with ice and plenty of fresh fruit.
For the sangria I made the other day, we juiced oranges, a lemon, and the blackberries and plums we picked. We added some sliced grapes, raspberries, and blueberries to the wine and juice mixture. My sister says the fresh-squeezed juice is essential (using store-bought is "icky") so it's well worth the extra effort to juice the citrus yourself. Luckily, fruit is abundant this time of year, and there's nothing quite as refreshing as cold drinks on a summer afternoon. Try sangria for a refreshing and sustainable
drink for summer! Salud!
Read More About Sustainable Wine & Local Foods:
Photo by ilkerender on flickr under a Creative Commons License.