I've been harvesting lots of berries starting in spring through the summer from my modest three-by-four-foot strawberry patch in my front yard, so I was inspired to try them in this easy sherbet recipe. I figured that if I'm going to eat something with sugar and dairy in it, it may as well be made with high-quality ingredients, in other words, homegrown and homemade.  The 2 cups of berries in this recipe is not a huge amount and very doable for the home garden.
See my version below of a basic recipe I found at Eat Drink Love, and scroll down for a photo of the strawberry bed in my front yard edible landscape.
Making sherbet with milk and a variety of fresh berries is simple and gives spectacular results. Instead of making ice cream, which is incredibly high in dairy fat and eggs yolks as well, I think you'll agree that sherbet is a fantastic alternative. You can use other types of berries too. I've also used fresh berries that we've kept frozen, and in combinations.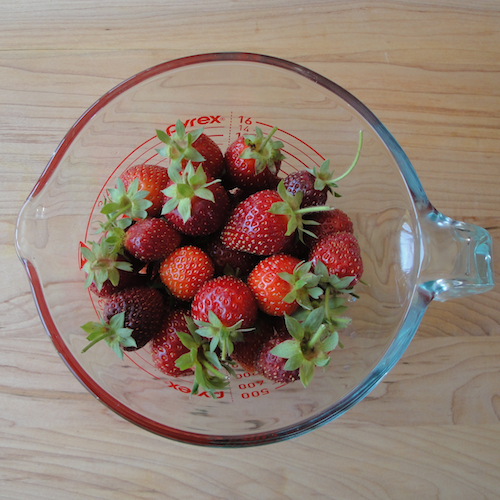 Three-Step Strawberry Sherbet
Three-Step Strawberry Sherbet Method
Ingredients
2 cups fresh organically grown strawberries, hulled and rinsed

1 tablespoon fresh lemon juice (Meyer lemon if available)

2 cups organic whole or low fat milk

½ teaspoon high quality vanilla

Pinch of sea salt
Directions
Put all of the ingredients into a blender or food processor and blend until smooth.
Chill the mixture until it is very cold for best results (2 or more hours).
Churn in an ice cream maker, about 20 – 30 minutes until very thick, then freeze 2- 3 hours or overnight.( This works well in my Cuisinart ice cream maker with a well chilled bowl that I keep ready in the freezer, but you should follow specific instructions for your brand of ice cream maker).
Conventionally Grown Strawberries: The Dirty Truth
Eating freshly picked berries is heavenly, since you'll get the best flavor and ripeness. A lot has been written about conventionally grown strawberries because they are notoriously grown with high inputs of fertilizers, pesticides and fumigants, and they don't even taste very good since they are often picked when under-ripe.
By growing your own strawberries you can be sure they aren't laced with pesticide residues and that soil-destroying fumigants weren't used. You can also find organically grown berries at your farmer's market, but unfortunately it's likely that the stock plants were produced by using fumigants and pesticides.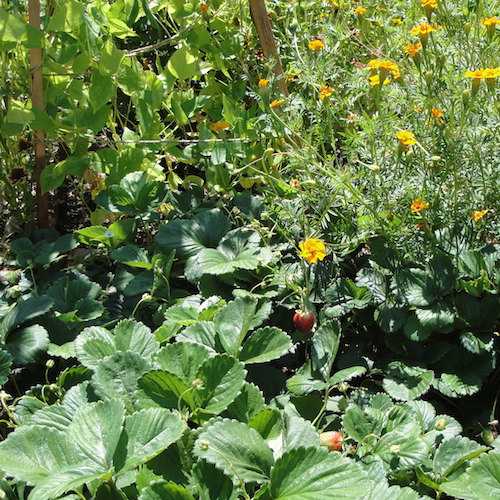 Read more about growing your own strawberries in Eat Drink Better's Becky Striepe's post, and read a peer reviewed scientific study about the advantages of organically grown strawberries versus conventionally grown here.
Photos: Patricia Larenas, Urban Artichoke