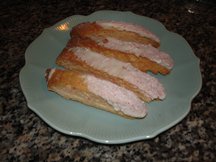 As turkey wafts the air this week, it means only one thing to me:  the scents of all holiday baking to come.  But how does our green and frugal focus at our Wisconsin farm and B&B, Inn Serendipity, blend with seasonal bake-offs?  Focus on creatively using ingredients already stockpiled in your pantry.
Case in point:  the story behind our annual bake-off favorite, Peppermint Biscotti.  Anybody else acquired a stockpile of those red and white peppermint candies, the freebies you pick up at restaurants and never use?  Or leftover candy canes? When I collected everything in our house last year, I had a gallon-sized plastic bag of peppermints.
I agree, there's hardly any nutritional value in these peppermints or anything to prioritize in the sustainable of organic category.  But the point is I had them, they already existed and I'm a firm believer, whenever possible, to use up rather than throw out (or stir up mint-flavored compost).
With a dash of recipe research and experimenting, that candy bag inspired this Peppermint Biscotti recipe, which quickly earned Christmas cookie house favorite status.  I realized holiday traditions could be fresh and personalized, based on our own values and priorities.  Sure, I love holiday cookie baking, but recycling and reuse also rank important ingredients for me.  What lingering ingredients lurk in your pantry, in need of some holiday cookie-izing?
For inspiration, there's that Peppermint Biscotti cookie recipe, from our B&B cookbook, Edible Earth:  Savoring the Good Life with Vegetarian Recipes from Inn Serendipity.
Peppermint Biscotti
Ingredients:
¾ c. butter, softened (1 ½ sticks)
¾ c. sugar
3 eggs
2 t. peppermint extract ((learn how to make your own mint extract)
3 ¼ c. all-purpose flour
1 t. baking powder
¼ t. salt
1 ½ c. crushed peppermint candy, divided
White chocolate bark for frosting.
Directions:
*  In a large mixing bowl, cream butter and sugar.
*  Add eggs, one at a time, beating well after each addition.  Beat in extract.
*  Separately, mix flour, baking powder and salt.  Stir in 1 c. peppermint candy.
*  Gradually add flour/candy mixture to creamed mixture, beating until blended (dough will be stiff).
*  Divide dough in half.  On ungreased baking sheet, roll each portion into a 12 x 2 ½ inch rectangle.
*  Bake at 350 degrees for 25-30 minutes or until golden brown.  Carefully remove to wire rack.  Cool 15 minutes.  On cutting board, cut diagonally into ½ inch slices.
*  Place cut side down on ungreased baking sheets.  Bake 12-15 minutes until firm.
*  For frosting, melt chocolate.  Dip one end in chocolate and roll in the remaining candy.  Cool on wax paper.
Photo Credit: Lisa Kivirist