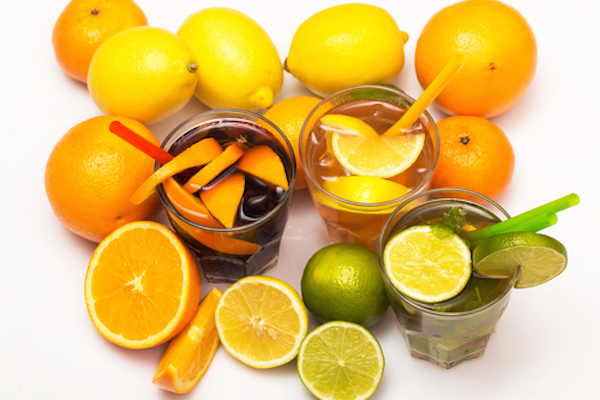 On a recent trip to Denver, I lunched at TAG Raw Bar and tried a new cocktail. Intense orange flavor. Kick of jalapeño. It was spring in a glass even while snow fell outside. After some experimentation, I came close to the same flavors at home, and I'm so happy. (I now need a dependable, economical supplier of mandarin oranges — which are good for you!)
If you like citrus, herbs, and a little heat and you're ready for a taste of spring, start mixing!
Recipe: TAG Raw Bar's O.G. Cocktail
Assemble the following to make two drinks:
At least a dozen mandarin oranges (I tried other oranges and none compared.)
Fresh cilantro
1 jalapeño
1 lime
Vodka (preferably organic)
2 glasses (rocks or martini)
Ice
Now work yourself up for some heavy lifting — it's time to juice those little mandarins. (See below for more information on how to make this more "fruitful." Ha!) You'll want about 1/2 to 3/4 cup of juice. You may not use all the mandarins. However, you may need more than a dozen depending on their size and juiciness, so it's wise to have plenty on hand.
Next, in a cocktail shaker or tall glass, add the juice from half a lime, several wicked thin slices of jalapeño (adjust the amount based on your taste — I usually go with 4 or 5 thin slices) and a small bunch of cilantro (about 1/4 cup loosely grabbed). Use a muddler to mash those ingredients and release their flavor.
Finally, add about a cup of ice, vodka to your taste, and the mandarin juice. Stir for a couple of minutes and strain into two rocks glasses with ice or two iceless martini glasses. Garnish with a sprig of cilantro.
Drink up!
Make It A Mocktail!
Not a drinker? This juice is amazing without the vodka. So complex and flavorful. So refreshing. Take a few moments to spice up your morning OJ!
How To Extract Maximum Juice From Those Mandarins
Initially, I tried using my lemon juicer on the oranges — the hand powered kind that's bright yellow. But the halved mandarins were so small that I felt I wasn't getting all the juice out. So I came up with a better way:  After cutting the fruits in half, I did a quick-and-dirty hand squeeze (which I think elicited more juice than the lemon juicer). Then I put 5 or 6 of the squeezed halves into the lemon juicer together and did a major last squeeze. (Make sure to tip the juicer sideways to get every last drop.)
A special thanks to Giegie at TAG Raw Bar, who created the cocktail and made it so lovingly.
Bartenders, start your engines… What do you think?
Image Credit: Citrus Cocktails via Shutterstock