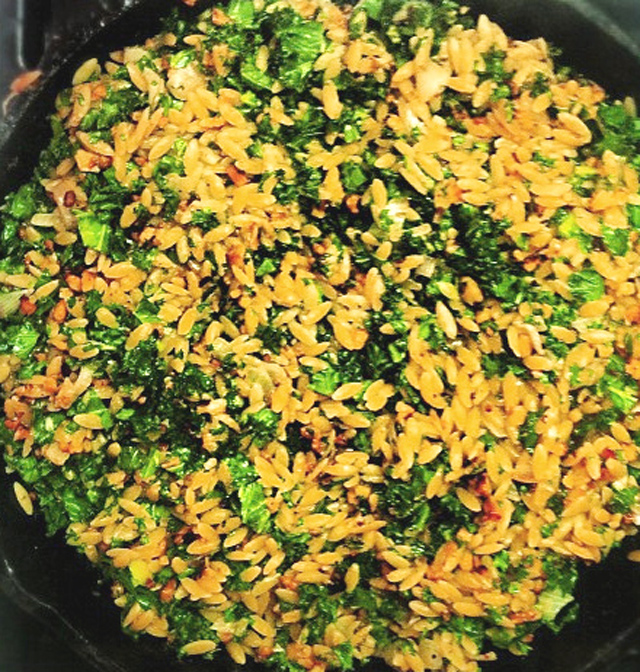 Memorial Day weekend means picnics! This salad features spinach, roasted garlic, walnuts, pine nuts, and fresh herbs, and adds healthy deliciousness to picnics and potlucks — or just to your summertime lunch box.
Ingredients
    5 cloves roasted garlic
    1/4 cup pine nuts
    1/4 cup chopped walnuts
    2-1/2 cups cooked orzo pasta, prepared according to package directions and cooled
    2 cups chopped fresh spinach
    1/4 cup finely chopped fresh mint leaves
    1/4 cup finely chopped fresh cilantro leaves (or fresh basil)
    juice of 1 lemon
    2 tablespoons extra-virgin olive oil
    1/2 teaspoon coarsely ground sea salt, or to taste
    1/8 teaspoon cayenne, or to taste
Directions
1. Prepare the roasted garlic, by whatever method you prefer:
Roasted heads of garlic

: Slice the top off of a head of garlic, drizzle with olive oil, and bake at 350 degrees F for 45 minutes or so, until cloves are soft when poked with a fork. For best energy efficiency I throw a couple heads of garlic in the pan to roast with other veggies, well before I plan to use it.

Roasted cloves of garlic

: Peel the individual cloves, rub with olive oil, and bake on a cookie sheet for 15 to 20 minutes at 350 degrees F, watching carefully and removing each clove as it becomes lightly brown around the edges.
2. Toast walnuts and pine nuts in a dry skillet over medium heat, for 2 minutes or until you see the first pine nut start to brown (don't overdo it: they burn quickly!).
3. Mash garlic with a fork, until it's transformed into yummy-roasted-garlic-paste.
4. Combine orzo, spinach, herbs, garlic, lemon juice, oil, and nuts; mix well. Add salt and red pepper, tasting to adjust seasonings as needed. Chill at least one hour before serving.
Make-Ahead Note
To prepare this dish the day before a potluck or picnic, combine all ingredients except spinach and fresh herbs in one storage bowl. Store chopped spinach, mint, and cilantro in another container. Toss spinach-herb mixture with other ingredients 1-2 hours before serving.
Enjoy!
Image credit: Creative Commons photo by ripkas.