Whether you have a cold or it's cold outside, soup season is here and there's no better way to use an abundance of winter greens than this Chickpea and Kale Soup. While the name mentions North Africa, you won't have to go that far to gather the ingredients, just check your local farmers market.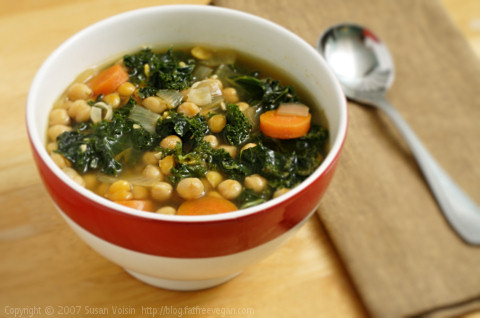 North African Chickpea And Kale Soup
recipe courtesy of Susan Voisin at FatFreeVegan.
1 large onion, chopped
2 carrots, sliced or diced
4 cloves garlic, minced or pressed
1 1/2 teaspoon ground cumin
1/2 teaspoon paprika
1/8-1/4 teaspoon chilli powder or cayenne
1/4 teaspoon allspice
1/2 teaspoon ground ginger
generous pinch saffron, lightly crushed
2 bay leaves
1 3-inch cinnamon stick
3 cups cooked chickpeas (or 2 cans, drained and rinsed)
8 cups vegetable broth (or water plus bouillon)
1 large bunch kale, thick center ribs removed and chopped (at least 8 cups)
about 2 cups water
salt to taste
Spray a large saucepan with olive oil spray and heat it. Add the onion and carrot and cook over medium-high heat until the onion begins to brown (about 5 minutes).
Add the garlic and cook for 1 more minute. Add the spices, including bay leaves and cinnamon stick, and cook, stirring, for another minute.
Add the chickpeas and stir to coat them with the spices. Pour in the 8 cups of vegetable stock, bring to a boil, and reduce heat to a simmer for 20 minutes.
Add the chopped kale and stir. If necessary add water to cover the kale and cook until it is tender, about 10-25 minutes, depending on how cooked you like your kale. Check frequently to see if it is becoming dry and add water as needed. Add salt to taste and serve.
[social_buttons]Susan Voisin is the author of the popular blog Fat Free Vegan Kitchen, which has won blog awards from VegNews Magazine and the Well Fed Network.