With an abundance of sweet potatoes and brussels sprouts in local Farmers Markets, there's no better way to use the season's bounty than this hearty chili, a perfect dish for cold nights.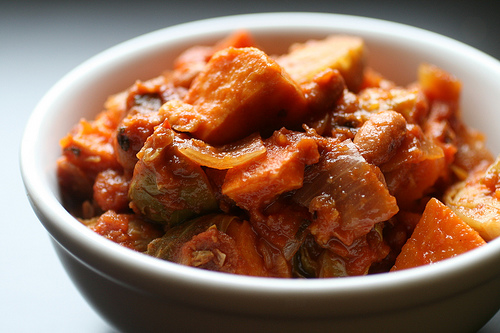 Chipotle Chili With Sweet Potatoes And Brussels Sprouts
recipe courtesy of Isa Chandra Moskowitz
2 tablespoons olive oil
1 red onion, diced
4 cloves garlic, minced
1 tablespoon coriander seed, crushed
2 teaspoons dried oregano
3 chipotles, seeded and chopped
1 1/2 lbs sweet potatoes (2 average sized), peeled and cut into 3/4 inch pieces
12 oz brussels sprouts, quartered lengthwise (about 2 cups)
2 teaspoons ground cumin
3 teaspoons new mexico chili powder (or other mild chili powder)
1 32 oz can crushed tomatoes
1 cup water
1 16 oz can pintos, rinsed and drained (about 1 1/2 cups)
1 1/2 teaspoons salt
Fresh lime juice to taste (about one lime)
In a soup pot over medium heat, saute onion in olive oil for about 7 minutes, until translucent.
Add garlic, coriander seeds, and oregano and saute a minute more.
Add remaining ingredients (except for lime juice). Mix well. The sweet potatoes and brussels sprouts will be peaking out of the tomato sauce, but don't worry, they will cook down.
Cover pot and bring to a boil, then lower heat to simmer for about half an hour, stirring often, until sweet potatoes and fork tender but not mushy.
Squeeze in lime juice to taste and adjust any other seasonings. Let sit uncovered for at least 10 minutes before eating.
[social_buttons]Isa Chandra Moskowitz is the author of Veganomicon, Vegan with A Vengeance, and the upcoming book, Vegan Brunch. For more from Isa, check out The Post Punk Kitchen.