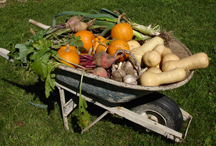 Summer brings out life's busy side for all of us, from garden duties to a packed outdoor agenda to sunny social gatherings. But don't solely blame our modern lifestyle for the jammed summer schedule. Living a busy, abundant lifestyle during the warmer months is completely in flow with living seasonally; the key right now is to recognize and embrace the signs of fall and slow things down.
"Summer signifies a time of high energy, spending time in the outdoors and strong creative and social output," explains Charlene Torchia, co-owner of Journey Inn, a green bed and breakfast in west central Wisconsin where she and her husband, John Huffaker, lead workshops helping folks connect with seasonal living. "Fall ushers in a time of slowing down, building our energy reserves, reflection and renewal."
Our food choices play an important role in embracing this seasonal lifestyle. "Eating local and fresh directly connects you with the season," explains Torchia. "In the peak of summer, our menus focus on raw, fresh items like salad greens or outdoor grilling. The fall crops naturally bring our cooking indoors, with soups and stews simmering on the stove."
But in today's 24/7 world, such natural, seasonal transitions can often be neglected. Between the busy, advertising-hyped "back to school" season and the bustle of the holidays around the corner, our fall schedules are often no different than the peak of summer. Here are some tips from Journey Inn to embrace the autumn season and savor the inspiration of fall:
1. Show Gratitude
"Draw inspiration from this harvest time of year and express gratitude, especially for the abundance of food and flavors we've enjoyed all summer long," suggests Torchia. "We have a tendency to focus on what's missing in our lives. Showing thanks for our food reminds us to be thankful for the many blessings of abundance."
Make an effort to specifically thank your local farmer at the farmers' market. Share details about the ways you enjoyed their farm produce all summer long. If your supermarket carries local produce, thank the store manager for their efforts to support area agriculture.

2. Reflect and Renew
"Step out of the busy summer schedule mentality and take time in the fall to reflect and review," Torchia advises. Now is the time to dust off your journal and process the summer. What were you eating highlights? What would you want more or less of next year?
On our Wisconsin farm and B&B, Inn Serendipity, this was the year I made a conscious effort to eat more fresh produce and not overly-focus on freezing for the winter. I didn't freeze any zucchini (which I decided I never really liked the defrosted texture of anyway), but rather made abundant stir-fries, curries and other new zucchini recipe experiments.
3. Simmer Something
The fall season naturally draws us indoors, the perfect time to have something simmering on the stove. "From soups to stews, this is the time of year to slowly build up our energy reserves with hearty, nourishing comfort foods," reflects Torchia.
4. Eat Some Roots
"Root crops naturally ground our energy, heating up our body and pulling us into our core," Torchia adds. Experiment with new root vegetables such as turnips and rutabagas. The Roasted Root recipe below provides a dish that flavorfully can use an array of root crops. We often serve this as a side dish on our fall breakfast menus at Inn Serendipity.
"Remember that if you're not attune to the natural cycles of the season, you're resisting and putting yourself in contradiction with the nature's flow," sums up Torchia. Much better to slow down, reflect, renew, and eat a beet, preparing our bodies and minds for the seasonal flow ahead.
Roasted Roots
From Edible Earth: Savoring the Good Life with Vegetarian Recipes from Inn Serendipity
Ingredients:
8 c. beets, turnips, rutabagas and potatoes, cleaned, peeled and chopped into bite-size pieces. Be sure to boil the beets, turnips and rutabagas first till they are tender-firm as they don't cook as fast as the other root vegetables. Boil the beets separately if you don't want their maroon color to spread to the other vegetables.
½ c. olive oil
2 ¼ t. garlic salt
2 ¼ t. dried oregano
1 ½ t. sugar
1 ½ t. dried thyme
Directions:
* Mix spices and oil in a glass jar and let set for about an hour or more.
* Place veggies in a 9-in. x 13-in. baking pan. Drizzle spice and oil mixture over veggies and toss to coat.
* Bake at 425 degrees for 20-25 minutes or until tender, stirring occasionally.
Serves 8.
Photo credit: John Ivanko