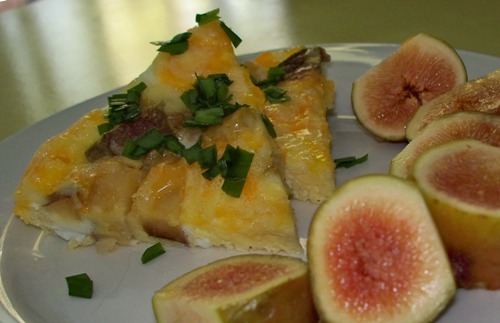 [social_buttons]
I'm not a morning person.  When I get out of bed, I want an easy dish to make for my family.  This red potato frittata is a big hit in my house.  It's a big hit with me because I can do it with my eyes half-closed.
Frittatas are well-known for their ability to absorb leftovers.  Just gather whatever is in your fridge, dump it into an oven-safe dish, and pour eggs over it.  Simple. 
In this red potato frittata, I used the leftover herbed red potatoes from the day before.  I always make too much food.  You can also cook some red potatoes up fresh.
Red Potato Frittata
5 eggs
1 cup cubed red potatoes, about 1/2-inch on a side
1/2 cup shredded monterey jack or cheddar cheese
2-3 tablespoons minced chives
salt and pepper to taste
If the red potatoes have just come from the fridge, warm them in a skillet on the stove or in the microwave.  If you boil them up fresh, let them cool until you are able to touch them.
Preheat the oven to 350 degrees F.  Butter the sides and bottom of an oven-safe dish (ramekin, skillet, casserole, whatever).  Arrange the red potatoes in a single layer on the bottom.
In a bowl, stir the eggs until the yolks and whites are just mixed together.  Add the cheese and salt and pepper and stir to mix.  Pour the mixture over the potatoes.
Place the dish in the oven for 20 minutes or until the eggs set.  When the eggs are firm on top, they've cooked all the way through, so you don't have to break your lovely frittata to check.
Sprinkle with the minced chives and serve with fresh fruit.  Serves 2 to 4.