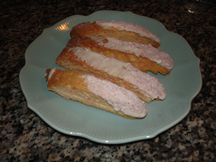 As the economy tanks, tips on saving money this holiday season are on the rise. But here's the most frugal, green holiday tip of them all: recycled food.
No, we're not talking about gifting your mother-in-law with the half-empty jar of mayo. But do think about scouring the back of your pantry for those ingredients you may have been stockpiling that would make a great food gift or holiday dish. Consider this the ultimate form of recycling: creatively using up ingredients that would otherwise be composted — or landfilled.
That's my inspiration behind this recipe for Peppermint Biscotti. You know those red and white peppermints you can pick up for free as you exit a restaurant? Apparently I can't say no to these as I had accumulated a jar of them over the course of a year. I realize, these mints are hardly a blip on the nutritional radar, but I still didn't want to see them wasted — considering I was the culprit who collected them in the first place. In crushed form, these peppermints add a seasonal mint twist to biscotti. And I've never met anyone who didn't love these cookies as a holiday gift. So much so actually that friends now gift me with their collection of peppermints for my annual biscotti-baking marathon.
Recipe after the jump.
Ingredients:
¾ c. butter, softened (1 ½ sticks)
¾ c. sugar
3 eggs
2 t. peppermint extract
3 ¼ c. all-purpose flour
1 t. baking powder
¼ t. salt
1 ½ c. crushed peppermint candy, divided
White chocolate bark for frosting.
Directions:
* In a large mixing bowl, cream butter and sugar.
* Add eggs, one at a time, beating well after each addition. Beat in extract.
* Separately, mix flour, baking powder and salt. Stir in 1 c. peppermint candy.
* Gradually add flour/candy mixture to creamed mixture, beating until blended (dough will be stiff).
* Divide dough in half. On ungreased baking sheet, roll each portion into a 12 x 2 ½ inch rectangle.
* Bake at 350 degrees for 25-30 minutes or until golden brown. Carefully remove to wire rack. Cool 15 minutes. On cutting board, cut diagonally into ½ inch slices.
* Place cut side down on ungreased baking sheets. Bake 12-15 minutes until firm.
* For frosting, melt chocolate. Dip one end in chocolate and roll in the remaining candy. Cool on wax paper.
Yield: Approximately 3 dozen biscotti.
From Edible Earth: Savoring the Good Life with Vegetarian Recipes from Inn Serendipity