by Anyonita @ Anyonita Nibbles
Got a healthy recipe that you'd like to share? Head over to our Submit a Recipe page!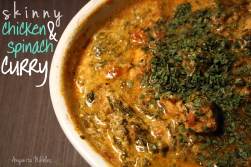 When I made this recipe, I wanted a quick dish using ingredients already in my fridge or cupboard. I was also on a bit of an orzo kick, so I paired this tasty, indulgent (yet healthy!) curry with orzo instead of rice and found that it worked well.
Skinny Chicken and Spinach Curry
Ingredients
For the curry

1

white onion, diced

1

can tomatoes

1 tub

non fat Greek yogurt

1tbsp

cinnamon

1tbsp

mild curry powder

150ml

chicken stock

200g

frozen spinach

500g

skinless chicken breast, diced

pinch of

sugar

cooking spray

salt and pepper

coriander (cilantro) leaf

100g

orzo per person

salt and pepper
Cooking Directions
For the curry, spray a large saucepan with no-calorie cooking spray and sweat the onions over high heat until they start to brown. Sprinkle in cinnamon and curry powder and toast until you can smell the spices.
Add the chicken, more cooking spray if necessary and allow the chicken to color nicely before adding in the chicken stock, tomatoes, spinach and sugar. (You don't have to add in the sugar but it always helps when cooking with canned tomatoes to undercut that slight tinny taste. If you're switching frozen spinach for tinned, you'll probably definitely want to add a bit of sugar for the same reason.)
Season with salt and pepper, cover and allow to bubble and simmer away for 15 to 20 minutes. Meanwhile, get on cooking the orzo up by slipping the rice-shaped pasta into a pot of boiling water. It should only take 8 minutes or so for your orzo to be cooked, so plan accordingly.
Finish off the curry by straining any excess liquid, if you feel it is too watery (remember, spinach emits a lot of water!) and stirring in the Greek yogurt. Adjust seasonings if necessary and sprinkle with coriander leaf. Strain the orzo, fork through a knob of butter and season.
Got a healthy recipe that you'd like to share? Head over to our Submit a Recipe page!