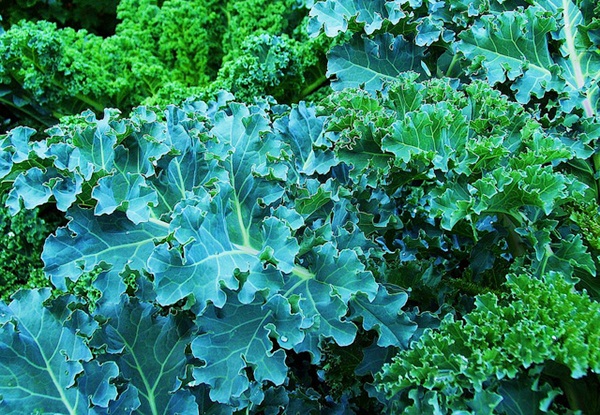 Rubbed Kale mixed with Butternut Squash is a healthy vegetarian dish that is very easily prepared and very healthy to eat!
Rubbed Kale with Butternut Squash
Yield: 12-15 servings
1 butternut squash, about 3 lbs. (also great with Red Kuri squash if you can find it, or kabocha squash, neither of which have to be peeled)
2 Tbs. extra-virgin olive oil
salt & freshly ground pepper
1 bunch very fresh kale
2 Tbs. extra-virgin olive oil
Sauce:
1/8 cup coarsely chopped fresh ciilantro
1/8 cup coarsely chopped fresh parsley leaves
1 large garlic clove, minced
1/2 teaspoon paprika
1/2 teaspoon ground cumin
1/8 teaspoon cayenne, or to taste
salt to taste
2-3 Tbs. fresh squeezed lemon juice
Cooking Directions
Preheat oven to 350°F. Top and tail the squash, halve it crosswise, put each piece flat-side down on the cutting board, and peel with a sharp chef's knife. Remove the seeds with a spoon, and cut the squash into 1-inch cubes. Place in a large bowl, toss with the 2 tablespoons olive oil and season lightly with salt & freshly ground pepper. Spread on a parchment-paper covered sheet pan. Roast 20-25 minutes, until the squash is tender and starting to brown.
While the squash roasts, strip the kale from it's ribs (easy to do by just running your fingers along the rib on both sides, bottom to top), wash it well, and cut into fine ribbons. Mix with the olive oil in a large bowl, and rub and massage the kale until it softens, about 2 minutes.
Make the sauce by combining the ingredients in the food processor. Pulse to puree to a sauce consistency. Combine with the softened kale.
Toss the hot squash with the sauce and kale, and serve. One of the beauties of this dish is that it is still delicious served warm or cold and still wonderful the next day.
Image Credit: Creative Commons photo by vizpix