by Melissa d'Arabian, Saturday Evening Post
Got a healthy recipe that you'd like to share? Head over to our Submit a Recipe page!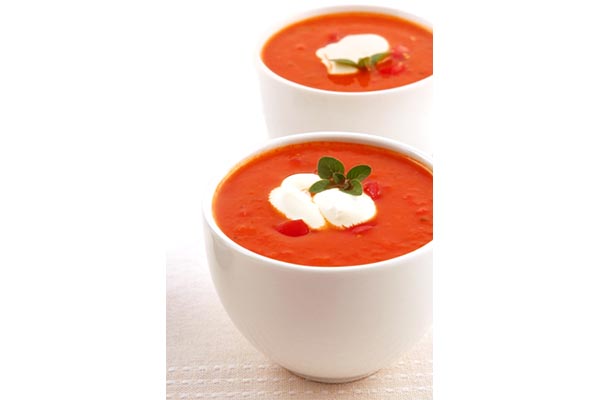 A perfect complement to a grilled cheese or simply as a lovely start to any dinner, this homey and comforting soup highlights the concentrated and wonderfully sweet flavor achieved by roasting tomatoes—and feel free to use tomatoes that are past their prime for eating raw; they'll be perfect in this preparation. I like to load up when the tomatoes are on sale, roast them, transfer to a freezer bag, and use year-round for my soup cravings.
Rich Roasted Tomato Soup
Ingredients
8

Roma tomatoes, cut in half lengthwise

2 tablespoons

olive oil, divided

Kosher salt and freshly ground black pepper

1/2 cup plus 1 tablespoon

water, divided

1/2

onion, chopped

2 cloves

garlic, minced

2 teaspoons

dried herbes de Provence

2 cups

chicken or vegetable stock

Sour cream or olive oil, for garnish (if desired)
Cooking Directions
Preheat oven to 275° F. Line baking sheet with parchment paper.
In bowl, toss tomatoes with 1 tablespoon olive oil, salt, and pepper.
Place tomatoes, cut side down, on prepared baking sheet and drizzle 1 tablespoon water over tomatoes.
Bake in oven for 1 hour. Remove from oven. Carefully peel off skins and discard.
Flip tomatoes over so they're cut side up, and place back in oven until tomatoes are shriveled but not dry, another 30 to 60 minutes.
Remove tomatoes from oven and allow to cool slightly.
Meanwhile, in large saucepan, saute onion in remaining 1 tablespoon olive oil over low heat until very soft, 10 to 12 minutes.
Add garlic and herbes de Provence and cook until fragrant, another 1 to 2 minutes.
Add stock and remaining ½ cup water and bring to simmer. Simmer 15 minutes.
Cool slightly. In blender, puree tomatoes (including any cooking liquid on baking sheet) and stock mixture until very smooth. You may need to work in batches.
Strain through fine sieve if very smooth texture is desired.
Pour soup back into saucepan, season with salt and pepper, and heat gently.
To serve, ladle into cups or bowls and top with either swirl of olive oil or little sour cream, if desired.
Got a healthy recipe that you'd like to share? Head over to our Submit a Recipe page!