by Emeril Lagasse, Saturday Evening Post
Got a healthy recipe that you'd like to share? Head over to our Submit a Recipe page!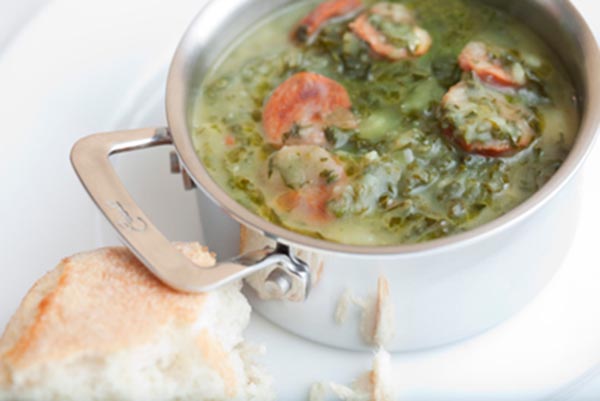 If I had to choose one dish to represent my childhood, 
it would be this. I call this version 'new-style' because the kale is cut into thin strips and is cooked only until crisp-tender, which differs from the more traditional version. 
Ines, my Portuguese friend back home, would be proud. Serve this with crusty bread alongside.
New-Style Caldo Verde
Ingredients
2 tablespoons

olive oil

1 1/2 cups finely chopped

yellow onions

1 tablespoon minced

garlic

2 pounds

Idaho potatoes, peeled and cut into 1/2-inch cubes

7 cups

chicken stock or canned, low-sodium chicken broth

Salt (if desired) and freshly ground black pepper, to taste

1/2 teaspoon

crushed red pepper

8 ounces

kale, large stems and ribs removed

8 ounces

firm (smoked) chorizo or other hot smoked sausage, �diced or crumbled

1/2 cup chopped fresh

cilantro

1/4 cup chopped fresh

parsley

2 tablespoons chopped fresh

mint
Cooking Directions
Heat olive oil over medium-high heat in large soup pot, and add onions and garlic.
Cook until onions are wilted, 4 minutes.
Add potatoes and chicken stock, cover, and bring to boil.
Season with salt and pepper, and add crushed red pepper.
Reduce heat and simmer, uncovered, until potatoes are tender, 20 minutes.
While potatoes are cooking, thinly slice kale. Set aside.
When soup is thick and potatoes have begun to break down, add sausage and cook for 5 minutes.
Stir in kale and simmer until leaves have softened but are still slightly crunchy and flavors have melded, 15 minutes.
Stir in cilantro, parsley, and mint, and season to taste with salt and pepper. Serve hot.
Got a healthy recipe that you'd like to share? Head over to our Submit a Recipe page!