We love quinoa around here! And we're not alone. When Rachel polled you guys, quinoa was your #1 grain, too!
When the folks at Roland Foods kindly offered to send me some samples of their flavored quinoa to review, I jumped at the chance. Quinoa is healthy, delicious, and easy enough to prepare already, and these seasoned packs looked like they might make it even simpler to whip up a quickie meal.
They sent a few different sorts, and not all of them were vegan. Luckily, I have lots of quinoa-loving, non-vegan friends. I spoke with the PR folks at Roland, and they said they had recently reformulated their recipes to make more of their varieties vegan, so make sure you check the package before you buy if you're avoiding animal ingredients!
Roland Foods Flavored Quinoa
To start, I decided to try this quinoa out on its own. I cooked up a batch of the Mediterranean style for lunch. It took about 15 minutes to make, which is much faster than the plain sort from the bulk bins.
On its own, the Mediterranean quinoa was OK. I don't see it becoming a family favorite, but in a pinch it was a quick, filling, healthy meal. Since I wasn't mad about it on its own, I decided to try out the Roasted Garlic variety in a recipe instead.
Garlic Quinoa with Sunchokes and Mushrooms
This recipe uses the quicker-cooking Roland Foods quinoa. If you want to make this with plain ol' quinoa, you'd need to increase the simmering time to 30-35 minutes, and it would be a good idea to saute up some garlic and onions before adding the other veggies, since regular quinoa is unflavored
Ingredients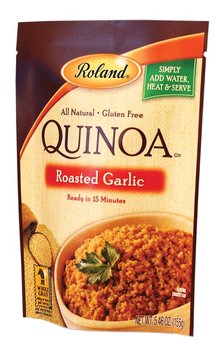 Directions
Heat the olive oil on medium high, then add the sunchokes and cook for 3 minutes, stirring occasionally.
Add the mushrooms and wine, and keep on cooking until the sunchokes start to soften.
Add the quinoa and water, bring to a boil, then reduce the heat, cover and simmer for 14-18 minutes, or until the liquid is all absorbed.
Fluff with a fork and serve while it's hot!