by Brad Wolff / Eatopia Catering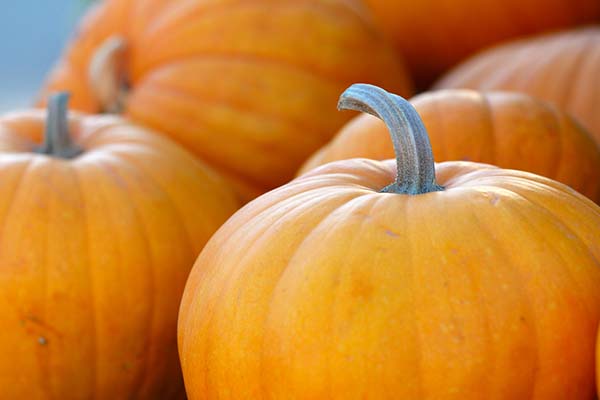 Served in the pumpkin itself, this makes a beautiful centerpiece.  Use a pumpkin that is wider than it is tall so that it will stand upright without tilting.  Buy your pumpkin before Halloween or they might not be available.  If uncut, a pumpkin will last about 6 weeks.  Store in a cool place but do not let freeze.
Pumpkin Stew
Yield: about 4 quarts
Ingredients
1/3 cup

olive oil

2 medium 

yellow onions, diced

2 large cloves

garlic, minced

2 cups

water

3 tablespoons fresh

Basil or 1 1/2 tablespoons dried

3 tablespoons fresh

Oregano or 1 1/2 tablespoons dried

2 teaspoons fresh

Marjoram or 1 teaspoon dried

2

bay leaves

1/2 teaspoon 

black pepper or to taste

6 large

tomatoes, peeled and diced (1 quart) or 2 – 15 oz. cans diced tomatoes with liquid

3 cups fresh

corn, cut off the cob or 12 oz. frozen corn

2 teaspoons

salt, or more to taste
Method
IF USING FRESH PUMPKIN: Cut top from pumpkin and scoop out seeds and stringy fibers. With a large spoon, scrape out pumpkin pulp, being careful to leave at least a half inch on the sides and bottom so it will stand up.
TO PREPARE STEW: Put olive oil in a 5 quart or larger pot over medium-high heat. Sauté onions, and garlic until tender. Drain navy beans and add to pot with pumpkin, water, herbs and pepper. Bring to a boil, then turn heat to low. Cover and simmer, stirring occasionally, 1 hour if using canned beans or 3 hours if using dry beans. Add tomatoes, corn and salt. Simmer 30 minutes, stirring occasionally.
WHEN READY TO SERVE, place pumpkin shell on serving platter and ladle hot stew into it.
Image Credit: Pumpkins photo via Shutterstock