Pressure cooker black beans and rice makes such a simple weeknight meal. While you wait for the beans to pressure cook, fix yourself a margarita, and kick back!
This pressure cooker black beans and rice recipe takes about 90 minutes, but thanks to pressure cooker magic, there are only about 20 active minutes of cooking time. Pop open a cerveza or fix yourself a margarita while you wait for those beautiful black beans to cook up!
Pressure cooker black beans and rice is a humble dish, but you can make it super fancy by tweaking the presentation just a bit. To make these look extra pretty, I used Stax that I received from our amazing site sponsor, Creo. Stax make it easy to create beautiful, perfectly cylindrical food art.
The Stax work better for arranging food than a tin can. They're BPA free, and instead of ever-so-carefully sliding them off the top of your food, you open the hinge to remove them easily. They also come with a Tamper Tool, so you can press everything evenly and make sure your stacks of food are nice and sturdy. Trust me: I made this one pressing with a spoon and once with the Tamper Tool. The spoon-pressed stack collapsed within minutes.
To make these pressure cooker black beans and rice Stax, first I spooned in a layer of beans and rice, pressing it down well with the Tamper Tool: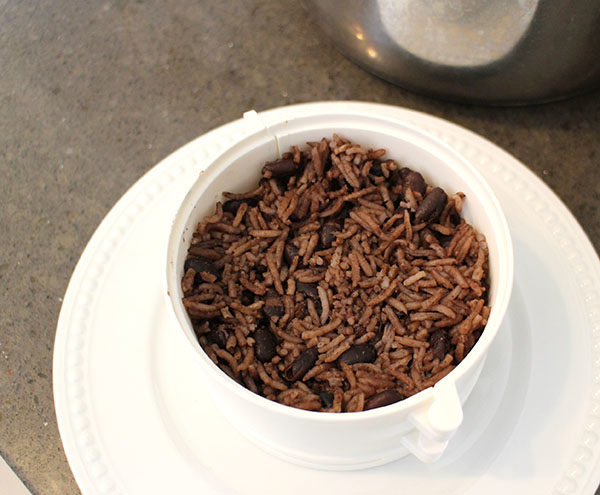 Then I topped that with a layer of my 10-Minute Guacamole, tamped again, and topped that off with some salsa fresca. I bought salsa this time, because I didn't want to deal with the prep, but you can absolutely make your own. Homemade salsa is fun, because you can create variations like this artichoke and olive salsa or this papaya and black bean salsa.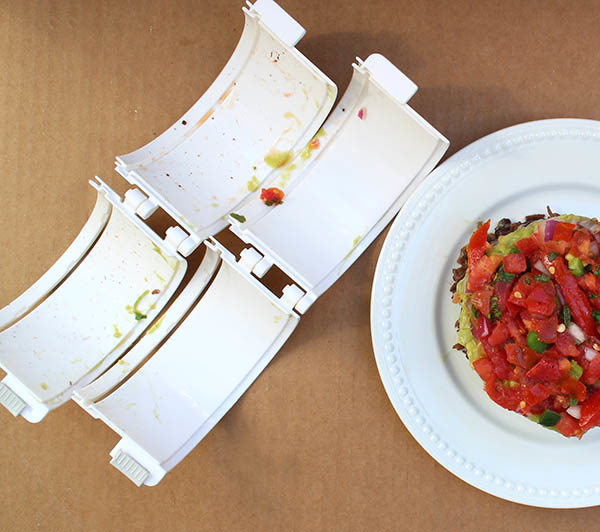 Then, I removed the Stax and basked in the pro-chef magic.
If you're interested in getting your own Stax for some gorgeous culinary creations, Creo is offering our readers 10% off an entire order of $15.00 or more using promo code EDBCREO1. You can shop until the end of day June 1, 2016, with this special discount. During the month you can stock up on Stax or their beautiful Creo bakeware for Mother's Day, graduation day, or any day!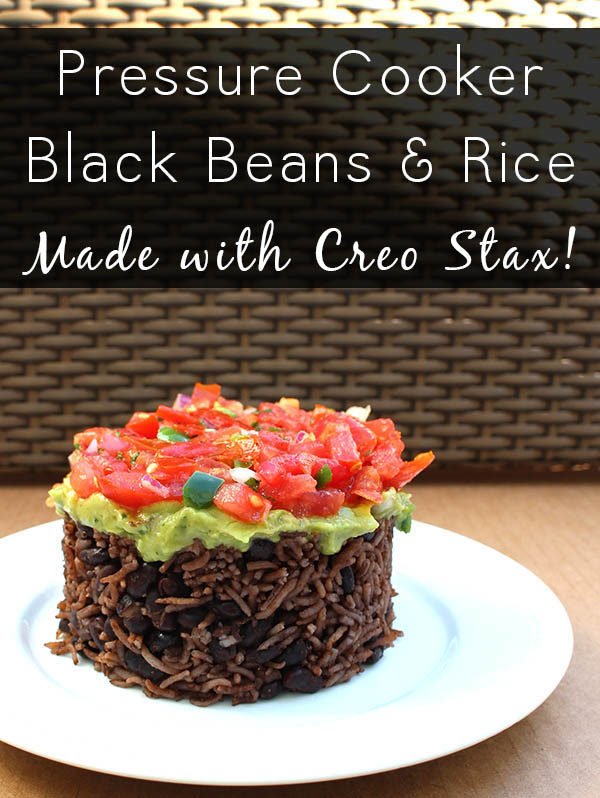 Pressure Cooker Black Beans and Rice Stax
Yield: 4-6 servings
Ingredients
1 cup

black beans (dry, no need to soak)

3 cups

vegan chicken broth or vegetable broth

2 teaspoons

ground cumin

1 teaspoon

garlic powder

1 teaspoon

onion powder

1/2 teaspoon

sweet paprika

1/2 teaspoon

coriander

salt and pepper, to taste

1 cup

white rice

1/4 cup

water

1 tablespoon

olive oil (optional)

1 recipe

10 Minute Guacamole

1 cup

your favorite salsa

optional garnishes:

chopped green onion, chopped cilantro, sunflower seeds, vegan yogurt
Cooking Directions
Combine the beans, broth, cumin, garlic, onion, paprika, and coriander in your pressure cooker. Bring to high pressure, cook for 30 minutes, and use a natural release.
Taste the beans, and season with salt and pepper. I'd start with 1/2 teaspoon of salt and a dash of pepper, then go from there.
Add the rice, water, and olive oil. Cook at high pressure for 4 more minutes, and use a natural release again
Stack with 10 min guac and salsa. Remove the Stax, then sprinkle on toppings of your choice.