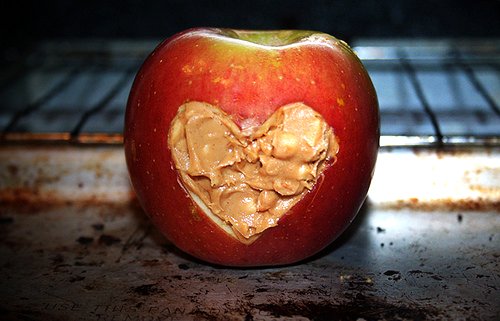 Does the peanut butter recall have you feeling like you can't enjoy some peanut butter? Here's how to make peanut butter from scratch.
Store bought peanut butter usually contains added saturated fats, sugar and salt. And those natural peanut butters are just plain expensive. Here is how to make peanut butter from scratch.
The instructions below are for how to make peanut butter, but you can use the same method to make other nut butters. Almonds, cashews, walnuts…you name it!
Nuts are a great source of fiber, protein and essential fatty acids. Peanut butter can be just as healthy, as long as you skip the additives. And when you see how simple it is to make peanut butter, you'll wonder why you ever bought it at the store.
How to Make Peanut Butter
You need to make nut butter in an average temperature, so not on a really hot day or a bitterly cold one. This is because butters are temperature sensitive and you'll get the wrong consistency if you make it in very hot or cold conditions and then eat it in normal ones.
Ingredients and Supplies
+ 1 cup shelled peanuts (or nuts of your choice)
+ 1 teaspoon good-quality oil, such as almond for almond butter, sesame for pistachio butter, or cold pressed olive oil for other butters.
+ food processor or high speed blender+spatulaDirections
1. Put the nuts into your food processor and chop or pulse until the nuts become very fine. Use a spatula to scrape down tiny particles that build up on sides and continue processing.
2. When the nuts begin to form a ball, slowly pour in the teaspoon of oil. Add more oil if the nut butter doesn't form a spreading consistency.
3. Keep processing until your powdery mixture turns oily and creamy. It almost happens like magic, so just keep at it!
Storing Homemade Peanut Butter
Learning how to make peanut butter is half of the equation. You also need to properly store it, so it keps well.
You can keep peanut butter and other nut butters in a tightly sealed container in the refrigerator for about two weeks. Remember to take it out of the fridge and allow to sit at room temperature before trying to spread it. Processed peanut butter contains a range of ingredients that emulsify it and give it a longer life, but at the cost of freshness and simplicity.
Variations
You can make a stronger flavored butter by dry roasting any of the nuts. Simply spread the nuts out on a dry baking sheet and toast at 350F for around five minutes before stirring and then continuing to roast for another five minutes, checking constantly so they don't scorch. This form of nut butter will probably need more oil and is good if you want a savory version as you can add a few strong dried herbs or even chili flakes to make the mixture more intense and grown up. Put the nuts or herbs in with the browning nuts to boost flavour, allow the ingredients to cool before processing.
Alternatively, sweeten any nut butter with ingredients to your taste, such as raw chocolate, maple syrup, cinnamon or honey.
For Valentine's Day, why not spread some heart-shaped toast with a home-made nut butter and serve with sliced red apples? It's a heart-healthy treat for your loved ones.
photo via Glitter Feet