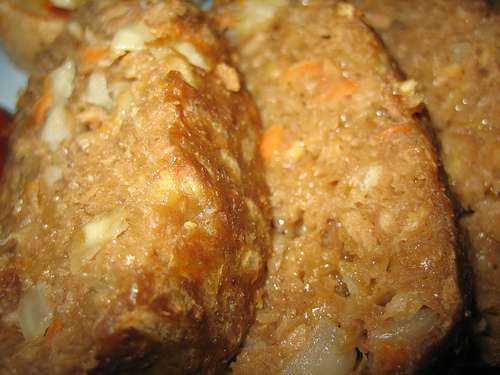 One of my favorite places to eat in town is Jyoti-Bihanga, a tasty vegetarian/vegan restaurant run by the Sri Chinmoy folks.  If you aren't familiar with them, I'll tell you this – they make a fantastic fake meatloaf, they call it Neatloaf.
You can imagine how excited I was when a friend of mine e-mailed me the recipe, so now I can have delicious Neatloaf in the comfort of my own home.  The recipe as it stands is vegetarian, you'll need to replace the eggs with an equivalent amount of egg substitute to make it vegan, switch the ricotta cheese with soy cheese or silken tofu, and double check the Lipton Onion Soup Mix as well.
Also, since I cook for a Celiac sufferer, I make it gluten free by simply replacing the Special K with gluten free corn flakes, which changes the consistency a little bit, but keeps the recipe well within the realm of "delicious".
Neatloaf
Ingredients
4

large eggs (use egg substitute if vegan)

1/4 cup

Lipton Onion Soup Mix (I'm pretty sure I read somewhere that this is vegan)

1/3 lb

low-fat ricotta cheese or crumbled tofu

1/3 lb

firm tofu (squished up into small pieces)

1/4 cup

vegetable oil, of choice

1/3 cup

onion, chopped

1/2 cup

cooked brown rice

1/2 teaspoon

oregano

1/2 teaspoon

basil

1/4 teaspoon

rosemary

4 cups

Special K cereal or gluten free corn flakes to make this gluten free

1 1/2 tablespoons

garlic
Cooking Directions
Heat oven to 300°F.
Saute the onions and garlic (in just a little bit of oil).
Beat eggs or egg replacer in a bowl, the mix together all ingredients except Special K.
Mix well, and add Special K last.
Turn into a pan sprayed with cooking oil. You can use either a 7×9 or 8×8 pan.
Neatloaf Sauce
Ingredients
1/2 cup

ketchup (you can also substitute catsup)

1/8 cup

Dijon mustard

1/4 cup

molasses

1/8 cup

apple cider vinegar

to taste

Cayenne pepper (a pinch is plenty for me)
Cooking Directions
While Neatloaf cooks prepare sauce, whisking together all sauce ingredients in a bowl. I typically like a lot of sauce so I double the sauce part.
Remove loaf from oven, pour sauce over the loaf and cook an additional 10 minutes.
When loaf is done, if you can avoid the temptation, it's best to let it sit for 10-15 minutes.
The Sri Chinmoy folks have restaurants all over the US (each restaurant is named differently but all are affiliated/inspired by him), and I'd highly recommend visiting, the Neatloaf always seems better at the restaurant no matter how well I make it home.  And in the interest of full disclosure, they are some kind of religious movement/cult, so if you're wary of that sort of thing, take heed.  Suffice to say though that I've been there dozens of times and have yet to be recruited….maybe I should take it personally.
Need another gluten free meal idea?  Check out the recipe for Gluten Free Pizza.  Need a side dish with your Neatloaf?  Check out the recipe for Cool Cucumber and Strawberry Salad.  Both are recipes from fantastic Eat Drink Better contributors.
Image credit: ewige at flickr under a GNU Free Documentation License.
More Vegetarian Recipes:
Best Ever Dip Recipe: Pumpkin Walnut Pate
Hungarian Veggie Paprikash
Soba Noodles with Chard and Oranges