Opah! The Greek God of Spanakopita smiled down favorably this week here in Wisconsin, providing tender green spin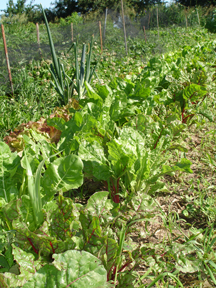 ach along with the first of our dill — which means it's spinach pie time. The Greeks sure know how to pack in the healthy, iron punch with an abundance of greens alongside poignant feta cheese. And while spinach pie can be made just fine with frozen spinach, you just can't beat the tender flavor of fresh.
Like other mainstay international dishes, this Greek dish has various versions — and spellings: "Spanakopita" for "spinach pie" and "spanakotyropita" for the more detailed "spinach and cheese pie." But the short gist is an abundant bowl of cooked spinach and herbs mixed with feta and eggs, nestled in between buttered layers of phyllo. By accident once, we bought puff pastry sheets instead of phylo dough which worked surprisingly well. Combinations of spinach and Swiss chard work equally well.
Harvest those local greens and enjoy!
Recipe after the jump.
Spanakopita
Ingredients:
2 lbs. fresh spinach (about 5 c. frozen)
1 large onion, finely chopped
¼ c. olive oil
1 lb. finely crumbled feta cheese
4 eggs, lightly beaten
3 t. dried dill
½ lb. phyllo pastry dough sheets
(defrosted)
½ c. butter, melted (1 stick)
Directions:
* Wash fresh spinach, pat dry and chop fine.
* Sauté onion in olive oil until soft and slightly browned. Add spinach and simmer to remove excess moisture.
* Crumble cheese and mix in eggs and dill. Combine with spinach mixture until well blended.
* Line a 9-in. x 13-in. pan with 10 buttered sheets of phyllo. Pour in spinach-cheese mixture. Top with 8 buttered sheets of phyllo.
* Bake at 350 degrees for about 45 minutes, or until top is golden brown.
Serves 8.
From Edible Earth: Savoring the Good Life with Vegetarian Recipes from Inn Serendipity