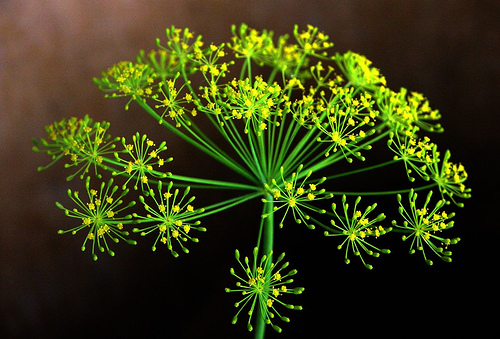 Most of us have a love/hate relationship with dill.  If you grew up on Scandinavian-inspired dishes, as I did, you no doubt have a fond appreciation for its distinctive flavors — I loved to feel dill's feathery-soft leaves against my hand when exploring in my mom's garden as a girl.  On the other hand, if your only association with dill is soggy, sickly-green supermarket pickles, then you might not be quite so keen on the herb.
Often overlooked, dill — from the Norse dilla, meaning, "to soothe" — possesses surprising characteristics.  Among its little-known superpowers are antibacterial and calming properties; the annual herb can be made into a stomach-soothing tea. Dill has been popular since Biblical times, and is even mentioned as a valuable commodity in the Gospels: "You give a tenth of your spices—mint, dill and cumin. But you have neglected the more important matters of the law—justice, mercy and faithfulness."
Traditionally used in food to season fish or as a balance to yogurt's tanginess, dill can also be used to brighten this protein-rich, vegan-friendly, summery rice salad.
While this recipe isn't destined for a haute cuisine award, it will score points for its ease of preparation, burst of summertime flavor, and use of leftover rice. An added bonus?  Lima beans recharge your body's store of the element molybdenum, which works wonders in detoxifying from harmful sulfites.
Cucumber, Dill,  & Rice Salad with Tofu "Feta Cheese"
1 c. frozen lima beans
1 t. dried thyme
To begin, cook the beans.  In saucepan, bring water to boil. Add dried thyme.  Add lima beans, lower heat. Simmer for 12-15 minutes, drain.  Set beans aside to cool. (If you are in a hurry, you can place the beans in the freezer while you continue preparing the dish.)
Next, prepare the faux feta cheese. Add a dash of oil to the bottom of the now-empty saucepan.  Heat until shimmering, then add —
1 c. coarsely-crumbled firm tofu
Cook the tofu under it is golden-brown and just starting to get crisp on the edges. Meanwhile, combine the following ingredients.
1-2 c. chilled leftover rice ( Have you tried the fragrant jasmine thai hom mali variety?)
1 c. chopped cucumber
To make the simple dill dressing, whisk together
1 T. unseasoned, gluten-free rice vinegar
1 T. oil
1/2 t. dried dill weed (if using fresh, use 1-2 Tablesoons chopped)
generous amount of sea salt, and pepper to taste
In a large bowl, mix together the rice/cucumber mixture with the chilled lima beans.  Toss the dill dressing over the ingredients until well coated.  Place the tofu "cheese" on top…and serve!
—
Image via Jurek D. on Flickr under a Creative Commons License