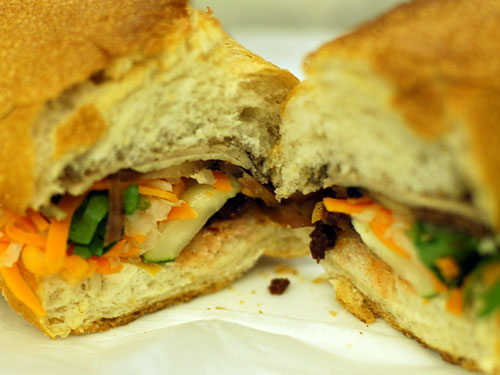 When we had company unexpectedly this week, I had to think quickly of a dish to serve. Earlier that day, I made some of the raw beet salad that I wrote about last month. I had about two cups of leftover shredded beets + carrots. So I decided to pickle them in a combination of rice vinegar, olive oil, salt, pepper and honey for the rest of the day.
As a quick snack for my pop-over friends, I made a modified Bahn Mi sandwich (you know, those incredibly complex Vietnamese sandwiches of liver pate, chicken and pork pieces, and pickled veggies between crusty slices of baguette).
To take the place of the liver pate, I used homemade hummus. The beat salad stood in for the usual daikon-and-carrot mixture. Instead of meat, I used some extra-firm, marinated tofu (a.k.a. the best tofu ever). The crusty baguette, veggies and tofu are all locally grown/made and picked up at the farmer's market. Recipe after the jump:
Veggie Bahn Mi (for 4)

4 4-inch piece of fresh baguette, sliced horizontally

1 cup of hummus (recipe below)

1 cup of extra-firm marinated tofu pieces (see details below)

2 cup of pickled veggies (beet salad recipe here…just leave out the cheese and seeds and use rice wine vinegar in place of apple cider vinegar)

8 romaine lettuce leaves

Chili oil to taste

1. Heat baguette for ten minutes in a 250 degree oven. While it is heating, drain the pickling veggies and pan fry the marinated tofu.

2. Spread the prepared hummus on the top side of the baguette and place two romaine lettuce leaves on the bottom half.

3. Using tongs, shake the veggies free of their pickling juice and place them on the lettuce side of the baguette.

4. Remove the tofu and place on the pickled veggies

5. Drizzle some chili oil over the hummus and turn the hummus-ed side of the bread onto the bottom half to form a sandwich.

Cut in half and eat!
Tofu and Hummus:
On Tofu: If you can't get your hands on Ying Ying Soy Foods (serious tofu geniuses), try to find another tofu that is made with Nigari instead of the synthetic coagulants found in most (even healthful) tofus. As a marinade, I usually stick to this base, improvising as I see fit.

Soy Sauce
Aji-Mirin
Melted brown sugar in oil
minced garlic
Lemon juice (or rice wine vinegar)
Red pepper flakes

On Hummus:

1 can chickpeas, drained (reserve some water)

1/4 cup chickpea water

1/4 cup lemon juice

2 Tb tahini

2 Tb roasted garlic

salt, pepper and cumin to taste

Chop top off of a head of garlic, drizzle with oil and bake at 450 F for 20-30 minutes. Take out and let cool.

Add all ingredients into food processor, including the roasted garlic, which should be gooey and squeezed out of its casing and blend until desired consistency is reached.
Filling and healthful!
(Photo not my own. It's from excellent blog, foodite)