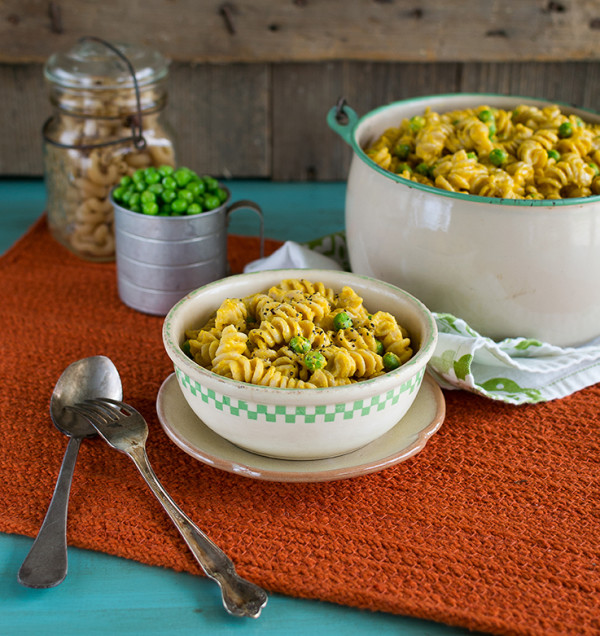 If you love mac and cheese, you'll love this creamy plant-based version! Laura Theodore's Mac 'n Peas gets its creaminess from cashews, not from dairy substitutes.
Laura Theordore – aka The Jazzy Vegetarian – just released a beautiful new cookbook titled Vegan-Ease. She calls her book "an easy guide to enjoying a plant-based diet," and it truly is what it says it is. Each recipe uses readily available ingredients that you can get at any supermarket.
Related: 10 Best Vegan Mac and Cheese Recipes
Each recipe is also rated with an "Ease Factor." The lower the rating, the easier the recipe, but even higher rated recipes like her Mac 'n Peas aren't difficult to make. If you want to check out a recipe from her book with an Ease Factor of one, try her 4-Ingredient Oatmeal Chocolate Chip Cookies.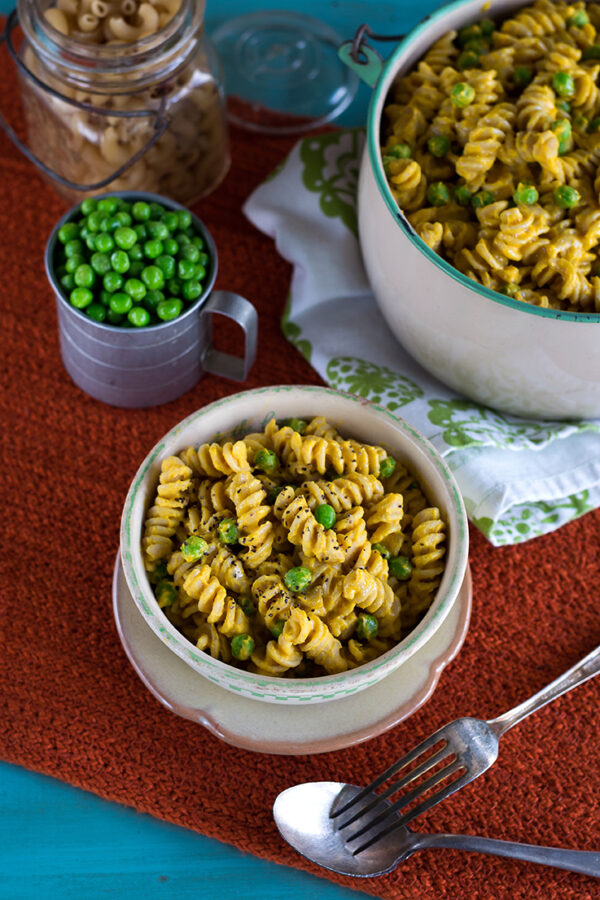 Laura Theodore's Mac 'n Peas with Creamy Butternut Squash Sauce
Makes 6 servings / Ease Factor 3
Ingredients
3 3/4 cups peeled, seeded and coarsely chopped butternut squash
2 small cloves garlic, chopped
1/3 cup raw cashews
1/2 cup plus 1 1/2 tablespoons filtered or spring water, plus more as needed
3/4 teaspoon sea salt, plus more as needed
1 pound whole-wheat or whole-grain fusilli, elbow or chiocciole pasta
1 cup frozen peas, thawed
1/4 teaspoon dry mustard powder
1/4 teaspoon smoked paprika
1/8 teaspoon cayenne pepper
1/8 teaspoon ground turmeric
Freshly ground pepper, to taste
Cooking Instructions
Fit a steamer basket into a medium-sized saucepan with a tight-fitting lid. Add 2 to 3 inches of cold water to the pot and then add the butternut squash and garlic. Cover and bring to a boil. Steam the butternut squash and garlic until very tender, about 20 minutes. Let the butternut squash and garlic cool for about 20 minutes (see note).
Meanwhile, put the cashews and 1/2 cup water in a small bowl. Let soak for 30 to 40 minutes. Drain the soaking water from the cashews and thoroughly rinse the cashews under clean, cold running water.
Once the butternut squash and garlic have cooled, bring a large pot of water to a boil over medium-high heat. Add 1/4 teaspoon salt (optional). Stir in the pasta. Decrease the heat to medium-low and cook, stirring occasionally, until the pasta is almost tender. Add the peas and cook, stirring occasionally, until the pasta is tender but firm and the peas are heated through, about 3 minutes. Drain the pasta and peas.
While the pasta and peas cook, put the cooled butternut squash and garlic, cashews, 11⁄2 tablespoons of cold water, mustard powder, smoked paprika, 1/2 teaspoon salt, cayenne pepper and turmeric into a blender and process until the consistency of a thick, smooth sauce. Add more water 1 tablespoon at a time, as needed, to achieve the desired consistency. Transfer the sauce to a medium-sized pan and cook over medium-low heat, just until heated through, stirring often and adding more water as needed if the sauce is too thick.
Put the pasta and peas in a large bowl. Immediately pour the warm sauce over the pasta and gently stir to combine. Season with salt and pepper, to taste. Serve hot.