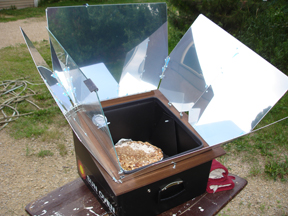 I confess, I'm slow to change.  At least when it comes to cooking.  A devout recipe follower, I measure my cups and teaspoons and follow recipe direction as if they were sent from above.
Until this week, when I finally took our new solar oven out of the box.  We bought this Global Sun Oven last winter to use at our farm and B&B, Inn Serendipity, with all good intentions.  No plug in required, just open it up and heat up and bake.
Which is where I got stuck, as I would not only be cooking out of my box, I'd be cooking out of my kitchen.  But my husband, John, helped by setting it up for the first time, conducting a mini-science project that even our seven-year old could handle of angling it to garner maximum solar gain.  I had one of my new favorite pies ready to stick in the oven ("Strawberry and Rhubarb Streusel Pie" – recipe below), and took it outside instead.
Voila! About an hour and half later, we had perfect pie on our hands.  My key initial learning with  my first solar oven experience is it won't get that hot (300 degrees was my max that day) so you need to cook things longer (1.5 hours versus the usual 45 minutes).  But other than that, the pie was perfect and I'm officially foraging new culinary ground for me personally.  Pizza is next on my solar oven agenda.
Alas, our Wisconsin strawberry season is winding down on the farm so this is probably close to my last one of these pies till next year.  Enjoy while strawberries are still in season.
Strawberry and Rhubarb Streusel Pie
Ingredients:
Cookie crust:
1 c. flour
3 T. powdered sugar
1/3 c. butter
Filling:
2 eggs
1. c. sugar
3 T. flour
½  t. salt
1 c. strawberries, hulled and sliced
2 c. rhubarb, chopped into small pieces
Streusel topping:
¼ c. whole oats
¼ c. flour
¼ c. brown sugar
2 T. butter
Directions:
•  For crust, mix together flour and powdered sugar.  Cut in butter and press into a greased 9-inch pie pan.  The crust will be very "floury" and appear dry.  Don't worry, it will turn into a shortbread-style cookie!
*  For the filling, separate the yolks from the egg whites.  Beat egg whites until stiff peaks form.  Separately, mix yolks with flour, sugar and salt (mixture will be thick).  Add in strawberries and rhubarb.  Fold in beaten egg whites.  Pour into prepared pie pan.
*  For the streusel topping, mix oats, flour and sugar.  Cut in butter until crumbling and sprinkle over pie filling.
*  For oven baking, bake at 425 for 15 minutes, then reduce heat to 350 and bake for 30 minutes or until nicely set and brown on top.
Photo credit: Lisa Kivirist