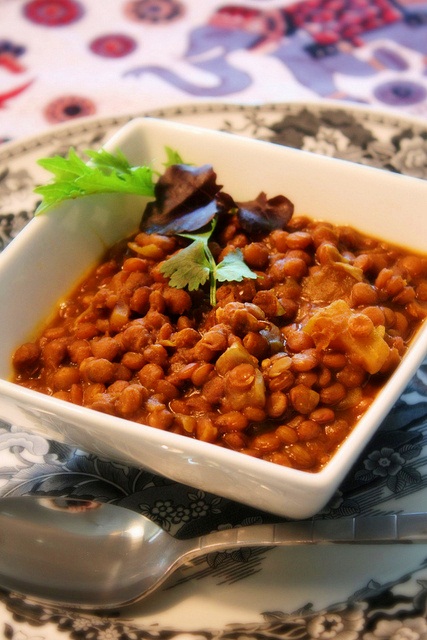 Do you live in a town with inadequate Indian dining options? Or perhaps you crave curry, but in these difficult times shy away from expensive restaurant fare? No problem: this delicious lentil curry will knock your Indian-food-loving socks off, without breaking the bank!
Ingredients
1 small mild yellow onion

1/4 cup olive oil, Earth Balance, or home-made vegan butter

1 teaspoon sugar

1/2 teaspoon salt

1-1/2 cups dry lentils (any type)

1/2 tablespoon whole cumin seeds

5 cups water

1″ chunk fresh ginger root, peeled and minced

3 large cloves fresh garlic, minced

1 red jalapeno, Serrano, or other fresh hot pepper, seeded and sliced in half lengthwise

2 tablespoons tomato paste

1/2 teaspoon curry powder

1/4 teaspoon ground coriander

1/4 teaspoon turmeric

Juice from 1-1/2 limes (about 1/4 cup)

1/2 cup coconut milk

1/8 teaspoon ground cayenne pepper, or to taste

1/4 cup finely chopped cilantro

Cooked basmati or jasmine rice (optional)
Directions
Heat oil in large saucepan. Combine chopped onion, sugar, and salt. Saute for 15 minutes over medium heat, stirring frequently.
Add cumin seeds, garlic, and ginger and cook for 2 more minutes, stirring constantly. Add water, lentils, tomato paste, halved pepper, coriander, curry powder, and turmeric. Bring to a boil, reduce heat, cover, and simmer until lentils are very soft, about 40 to 45 minutes.
Turn off heat and stir in lime juice, coconut milk, and cayenne. Remove hot pepper, and sprinkle with cilantro. Serve alone or over rice; add naan and chutney, to make it a meal.
Enjoy!
Makes: 6 servings, Preparation time: 15 minutes, Cooking time: 1 hour.
Image credit: Creative Commons photo by Martha Merry.