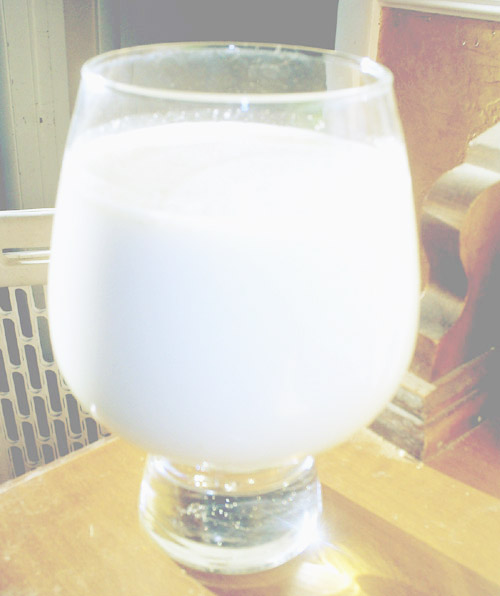 In these tough times, every grocery dollar matters. Oat milk works like soy, almond, or cow's milk in recipes or on cereal, at a fraction of the cost. Best of all, the 'by-products' of this milk production can be rinsed right from your blender: no veal crates are ever involved!
Ingredients:
1/2 cup old-fashioned rolled oats (not instant)
2 cups water
1-1/2 tablespoons agave nectar or real maple syrup
1 tablespoon light-tasting oil (sunflower, almond, walnut, or light olive oil works well)
1/2 teaspoon vanilla (optional)
Directions:
Pulverize the oats in a blender, grinding them to a very fine meal.
Add all other ingredients, and blend well. Include the vanilla for things like cereal milk, desserts, muffins, and quickbreads; omit vanilla if you'll be using the milk in savory dishes.
Makes 1-3/4 to 2 cups of oat milk. Use immediately as a 1:1 replacement for soy or cow's milk. The bottom inch or so will be too thick to use; discard or dump in compost bin, after pouring off the rest.
To save milk for later use: let it rest about 5 minutes; pour all but the bottom inch of liquid into an airtight storage container, leaving the dregs in the blender to discard. Refrigerate until needed, and shake vigorously before using.
Thrifty Nondairy Yum!
Nondairy milk from the grocery store has its place; but I haven't found any as inexpensive as homemade oat milk. Cow's milk has it's place; but it's inside a baby cow!
Try oat milk as a cheap and cruelty-free ingredient for breads, cakes, sauces, soups, gravies, smoothies, or any recipe that calls for milk. Oat milk doesn't blend well with coffee, but works fine on cereal — if you're looking for a splash for your coffee, try soy creamer, almond milk, or flax milk.
(Photo by the author.)