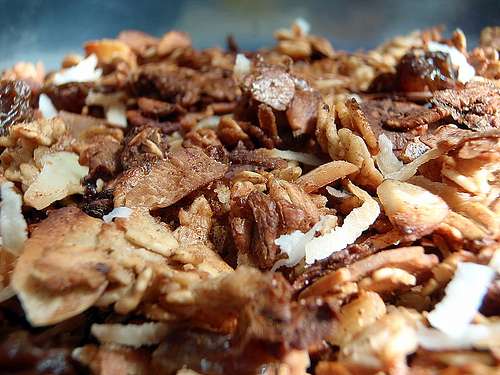 I've always been of the opinion that granola should be eaten sparingly, a half a cup in the morning with yogurt and some fruit, or maybe for a small mid-morning snack.  Consequently, my favorite granola recipes have been those that aren't necessarily "healthy", but are darn tasty and are best consumed in moderation.  This is my favorite granola recipe, but it's by no means health food, it has butter and sugar in it, and it's the kind of granola that makes no excuses for itself.
This recipe is another family heirloom from my Mother In Law.  She does have a real name, but we usually refer to her by her nickname, Mama Bear.  Given her upper Midwest farmhouse upbringing, Mama Bear is a heck of a cook, and this recipe is hers, so this is her appropriate acknowledgment.
Here's the recipe for (Mama Bears') Gluten Free Golden Crispy Granola:
3/4 Cup Organic Butter
1 Cup Brown Sugar
1/3 Cup Water
2 Tablespoons Vanilla
4 Cups Gluten Free Oats (I get mine from Gluten Free Oats)
2 Cups Pecan Pieces
1 Cup Flaked Coconut
3/4 Cup Slivered Almonds
Directions:
Combine butter, brown sugar, water, and vanilla in a large saucepan and heat slowly until gently bubbling.
Pour over dry ingredients and mix well.
Spread evenly on cookie sheet and bake for 45 minutes at 300 degrees, stirring every 15 minutes.
Turn off oven after 45 minutes and allow granola to stand until oven has cooled, about 15 to 20 minutes.
Remove and allow granola to cool completely.  Store in an airtight container.
The recipe makes about 10 cups of granola, and storing in an airtight container will help retain the fresh, crunchy nature of the granola.  It's best consumed within a couple of weeks.
One great characteristic of homemade granola (just like Homemade Gluten Free Chex Mix) is its versatility – you can add any number of your favorite ingredients; raisins, chocolate chips, dried fruit, currants, or banana chips, just to name a few.  So feel free to augment this recipe with your favorite granola additions and make it your own.
Photo Credit: joyosity's on Flickr with Creative Commons License