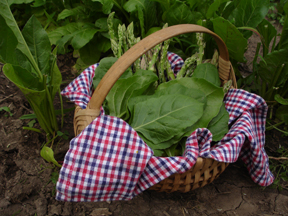 June on our Wisconsin farm and B&B, Inn Serendipity, ushers in a few weeks of chaos.  Tending everything from gardens to B&B guests, June packs in a cornucopia of duties that take time away from the kitchen and savoring the abundance of the early summer season.
Don't get me wrong as I truly relish this time of year, when both the days and work lists are long but satisfying.  Which is why we need quality fuel, good food to provide energy for the day.  This Spring Spinach and Asparagus Pasta ranks our new seasonal favorite, as it blends the tender seasonal flavors of asparagus and spinach with a filling dose of pasta, nuts and cheese, seasoned up with a unique, savory soy sauce-based dressing.  Plus it makes a sizeable batch, perfect for easy leftovers throughout the week.
Read on for the recipe and enjoy:

Hearty Spring Spinach and Asparagus Pasta
Ingredients:
2 pounds fresh asparagus, trimmed and sliced into 1inch pieces
¾ c. olive oil, divided
½ t. salt
1 pound (16 ounces) penne-style pasta
1 c. chopped green onions
3 T. soy sauce
5 T. white wine vinegar
Approx. 4 c. fresh baby spinach (about one 6-ounce package)
1 c. cashews, chopped
½ c. shredded Parmesan cheese or other hard-cheese such as Gruyere
Directions:
*  Place prepared asparagus into a baking dish and drizzle with ¼ c. olive oil and salt.  Bake at 400 degrees, uncovered, for about 20 minutes or until tender.  While the asparagus is cooking, cook pasta according to package directions.
*  Combine onions, soy sauce and vinegar in a blender.  While processing, slowly add the remaining ½ c. olive oil for dressing.
*  Combine pasta, spinach and asparagus in a large bowl.  Drizzle with dressing and toss.  Sprinkle with cashews and shredded cheese.  Serve immediately.
*  Serves approximately 8.
Photo credit:  Lisa Kivirist