by AINYCOOKS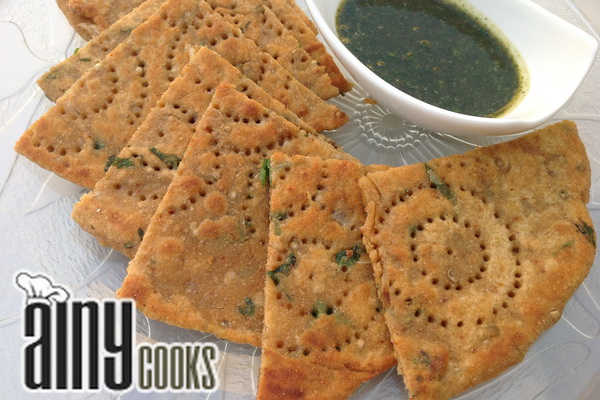 This recipe is a best choice for dieters and health conscious people. A perfect gluten free flat bread. Green sauce and bread's combination will win your heart.
Gram Flour Flat Bread
Ingredients
1 cup Whole Wheat flour
1/2 cup Gram flour
1 Onion small ,thinly sliced
2 small Green chillies, chopped
2 tbsp Fresh coriander leaves
Salt to taste
1 tbsp Red chili powder
1 tsp Whole coriander seeds,crushed
1/2 tsp Cumin seeds,crushed
1/4 tsp pomegranate seeds (optional)
Olive Oil for frying and 2 tbsp for adding in the flour
Method
Mix all ingredients in flours and knead with water.
Set a side for 1/2 hour and make flat bread.
Make impressions with fork or knife, if you like.
Serve hot with green sauce.
Green Sauce
Ingredients
1 cup Fresh coriander
1/2 cup Mint leaves
2 tbsp tamarind pulp/lemon juice
Salt to taste
1/2 tsp Ginger
1/4 tsp Cumin seeds
Method
Blend all ingredients and serve.