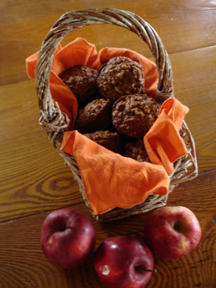 As the colder November winds start to blow here on our Wisconsin farm and B&B, Inn Serendipity, I feel a breeze of bittersweet. As I look at the pumpkins, potatoes and other root crops stacked up for the winter, I crave something else:  One last taste of crunchy, flavorful garden fresh.
That's when these Fall Finale Muffins show up on our breakfast table.  Grab the last of the apples and pair them with shredded carrots for a hearty, healthy muffin packed with a nutritional boost.  Because of the high amounts of fresh carrots and apples, along with dried cranberries and nuts, these muffins take on more of a crunchy produce feel than a typical bread-like muffin.  Fall bounty you can hold in your hand.
Make an extra batch as these freeze surprisingly well.  Here's the recipe:

Fall Finale Muffins
Ingredients:
½ c. whole wheat flour
½ c. flour
1 c. whole oats
1 c. brown sugar
1 t. cinnamon
1 t. nutmeg
2 t. baking soda
1 t. baking powder
½ t. salt
2 c. peeled, cored and chopped apples pieces (about 2 large apples)
1 ½ c. shredded carrots
1 c. chopped nuts
½ c. dried cranberries (or other dried fruit)
2 eggs
½ c milk
¼ c. oil
Directions:
Mix first nine ingredients in a large bowl.
Add apples, carrots, nuts and raisins.  Mix separately eggs, milk and oil and add to flour mixture until just moistened.
Fill greased muffin tins until about ¾ full.  Bake at 350 degrees for about 20-25 minutes.  Makes about 18 muffins.
Photo Credit:  Lisa Kivirist