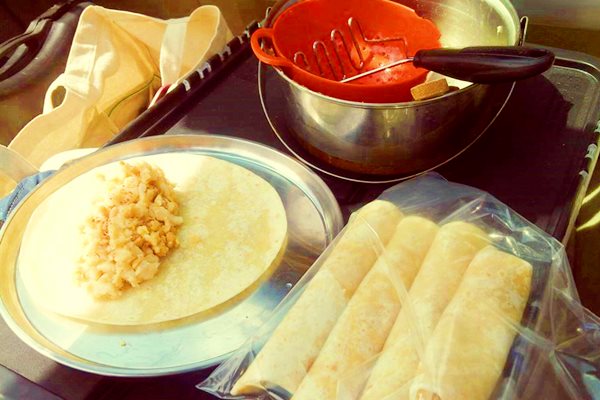 I admit it: I've fallen hard for hatchback cooking. After a couple of long car trips in which I cooked all our own food, I'm sold on the idea — we eat so much better that way, and cheaper too! I tinkered up this simple chickpea-potato wrap recipe at a rest stop recently, and it's now officially one of my travel staples. These vegan wraps are tasty lightly grilled on each side, but work just fine without any cooking at all: the perfect hatchback lunch!
Supplies
Ingredients
Directions
Place small colander or strainer inside medium-large cooking pot. Empty chickpeas and potatoes into colander; discard liquid. Dump chickpeas into that same pot, and mash well with potato masher. Add spices and stir well. Don't feel tied to the measuring spoon: with camp cooking, it's always okay to taste-sprinkle-taste, instead of measuring!
Stir in drained green peas, if using.
Place 5 tortillas in a stack on your cutting board or other flat working surface. Spread about 1/3 cup chickpea mixture in a line down the center, fold the edges in horizontally, then roll vertically to make a wrap with two enclosed ends (for mess-free eating and storage).
If you're firing up the camp stove, use a lightly oiled grill pan or skillet to brown wraps lightly, about 2 minutes each side over medium heat. If not, just wrap and eat!
They travel well, too, grilled or plain — so they're easy to make ahead and eat in the car while you cover the miles.
Production Notes
Read about BPA in canned food, and shop accordingly. Eden Organics offers BPA-free canned goods, as do some other manufacturers.
I pack a spice pantry with about 3 tablespoons each of the seasonings I use most, rolled in small plastic bags and labeled with a Sharpie, then tucked in a stuff-sack — I buy the recycled plastic bags, but there's probably a better way to do it than using plastic at all (please comment below, with any suggestions!). I generally travel with dried basil, oregano, parsley, cumin, coriander, chili powder, cayenne, freeze-dried wasabi, Old Bay, garlic, onion powder, salt, black pepper, and nutritional yeast (way more than 3 tablespoons — more like 1-2 cups!). Fresh garlic and ginger travel well, also, and add enough flavor to be worth the extra chopping.
Repurposed baby-food jars make good car-pantry containers for organic soy sauce, olive oil, sesame oil, and rice vinegar.
If you're into backpacking instead of car camping, read more about vegan camp cooking here:
For more info and lightweight camp cooking ideas, check out Backpack Gourmet and Lipsmackin' Vegetarian Backpackin' — neither are vegan books, but both offer useful camp cooking strategies and many easily veganizable recipes.
Be sure to check out Robin Robertson's excellent cookbook Vegan Unplugged, for how to stock a basic food box to meet travel or other off-the-grid cooking needs. Find more information on basic supplies, techniques, and travel-cooking strategies here:
Happy travels, and happy eating!
Image by the author, all rights reserved.