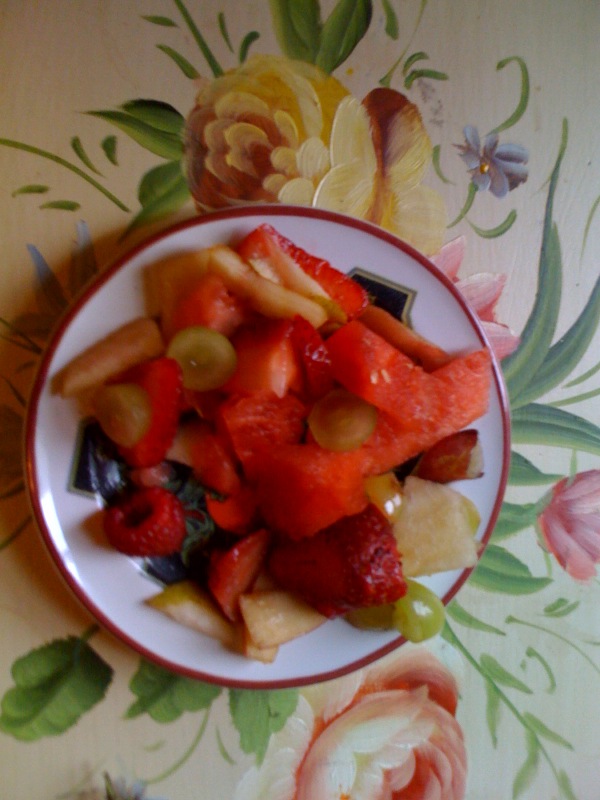 Fresh, organic fruit salads are so festive and healthy, make someone you love glow with one soon. I love mixing fruit flavors together and I think I've found a few secrets to delectable fruit salad blends. Here are some elements that make a great fruit salad sure to please and win smiles:
Marinade: First off a good juicy base fruit is best, citrus and melons both make nice frescas marinades. If you can find organic watermelon or organic citrus in season near you, go for it, you body will thank you.
Bite size delights of nutrients: The essence of fruit salad is to combine healthy organic bite size fruit slices that vary in texture and flavor. For instance organic white peach, green and red grape pair well with pear and berry. It is amazing how well fruits meld when combined.
Freshness: Depending on how fresh the fruit is when cut, it will keep for half the week. To ensure this you may like to wash the fruits or add Grapefruit Seed Extract to the mixture for natural freshness.
Rainbows: Creating a feast for the eye as well as the palate is key, I like adding edible flowers!
Keep reading for the recipe.
Here is the recipe for the above fruit salad:
Fresh watermelon (preferably organic): Slice, chop, mash, your choice.
Organic grapes: Slice each grape numerous times avoid seeds.
Organic pears: Finely chop crisp pears in small cubes.
Organic white peach: Slice thin and small.
Organic raspberries: Any berry works (even jam in some cases), crush or add whole.
Edible flowers: try pansies, violas or marigold petals
Optional: 1 teaspoon rosewater.
Mix all, keep refrigerated, enjoy often as a healthy snack.
Serving suggestion: Try serving the mix over organic frozen or any yogurt with soaked almonds, or your favorite granola or muesli :)
Organic Tip: Most natural foods markets have a bargain bin where they keep mixed bags for a buck that may need to be turned into fruit salad right away! Trader Joes also carries well priced organics.