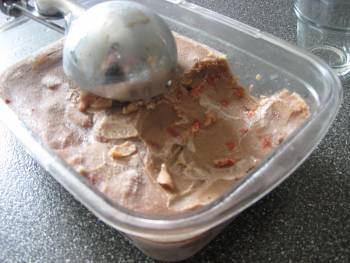 Following my goji berry coup in Chinatown last week, I found myself with an embarrassment of riches. What to do with all of these berries? Where before I meted out a small handful to enjoy at the bottom of a tea cup, I was now free to make recipes that included whole cups of goji.
I was inspired by this combination of chocolate and goji, but decided to make an ice cream. When I found out that a vegan friend was coming over, I surveyed my non-dairy ingredients and came up with this frozen dessert, which was surprisingly creamy and quite delicious. The combination of chocolate and goji is reminiscent of black forest (chocolate-cherry), but more herbal and less saccharine.
Vegan Chocolate Ice Cream:
1 cup chocolate soy milk
8-10 oz soft tofu almond dessert (any soft tofu or even soy yogurt would make a good replacement)
1/2 cup brown rice syrup (in retrospect, I would have liked to switch this for agave nectar, golden syrup or maple syrup – the brown rice syrup added a slightly bitter aftertaste that was not to my liking).
1 tb of premium vanilla extract
1 banana (optional)
2 tb cocoa
1/2 cup goji berries
Blend together all of the ingredients except for the goji berries – I used an immersion blender, but a food processor/standing blender would obviously be fine. Pour the mixture into the waiting ice cream machine and let mix for 10 minutes until the mixture has thickened a bit. Add the goji berries. I was fearful that they would turn into little rocks in the freezer, but the moisture from the ice cream plumped them. If you are particularly concerned about the plumpness of the goji berries, I would recommend soaking them for 5 minutes before adding.
The result was cool, sweet and of a pleasing consistency. It resembled ice milk, due to a slightly increased iciness.
Enjoy!