by ChaosQueen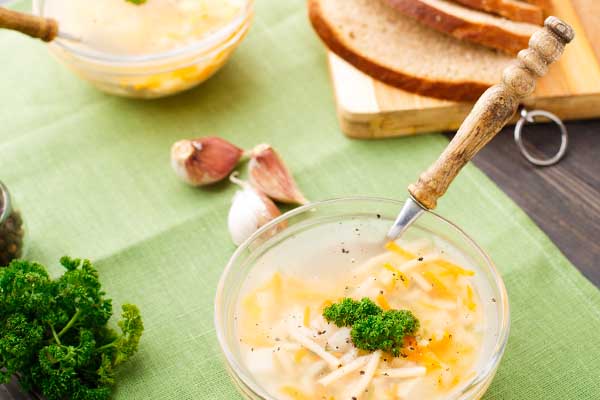 From Swanson Chicken Broth carton… so good I have to share.
Chicken Noodle Soup Recipe
Editor's note: This recipe calls for Swanson broth, which we wouldn't normally recommend since those chickens were likely raised in a factory farm environment. We'd suggest choosing any brand of free range or cage free broth you like or homemade broth in place of the Swanson broth that this recipe calls for.
Prep time: 10 minutes; Cook time: 25 minutes; Yield: 4 servings
Ingredients
4 cups Swanson

Chicken Broth (Regular, Natural Goodness OR Certified Organic)

Generous dash ground

black pepper

1 medium

carrot, sliced

1 stalk

celery, sliced

1/2 cup UNCOOKED extra wide

egg noodles

1 cup shredded cooked

chicken OR turkey
Cooking Directions
Heat broth, black pepper, carrot and celery in 2-qt. saucepan over medium-high heat to a boil.
Stir noodles and chicken in saucepan. Reduce heat to medium. Cook 10 minutes or until noodles are tender, stirring occasionally.
Image Credit: Soup photo via Shutterstock