by AINYCOOKS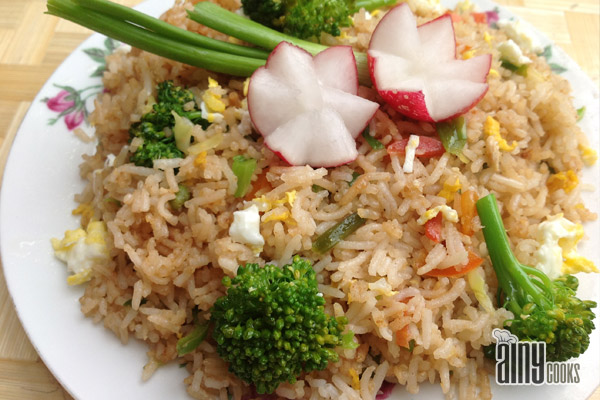 This recipe is for all age groups, I know mostly kids do not like broccoli but they do like fried rice. Combination of broccoli and stir fried rice will attract your kids.
Broccoli Fried Rice
Ingredients
2 cups

cooked rice

1 cup

broccoli florets

1 cup

a

ll vegetables (carrot, capsicum, spring onion, peas, cabbage)

1

medium onion, sliced

1/2 teaspoon

black pepper

salt, to taste

2 teaspoons

soya sauce

2 tablespoons

sesame oil

1 tablespoon

chili sauce

2

eggs (Ed. Note: To make this recipe vegan, toss 1/2 cup crumbled tofu with 1 teaspoon soy sauce and 1/2 teaspoon turmeric to replace the egg.)
Method
Boil rice and drain water, set aside. Chop half florets into small pieces and leave few.
In a wok pour oil and saute big florets of broccoli for few mins, take it out and pour egg beaten eggs, just scramble them and take them out.
Add onion in the same oil, saute it for few seconds.
Add all vegetables and spices stir fry on high flame, mix in rice and toss them with vegetables. In the end add egg and broccoli, serve hot.