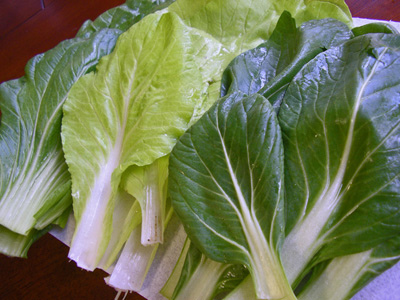 "Bok Choy Recipes" is a new column that features Chinese vegetables in recipes other than stir-fries. Symbolized by bok choy, the veggie that people are most familiar with, this column will showcase recipes featuring bok choy and other leafy Chinese vegetables.

While most people may think "stir-fry" when it comes to Chinese vegetables, the truth is, they are quite versatile.  They can often be used in soups, appetizers, and main dishes.  Napa cabbage, for example, considered to be one type of bok choy, tastes great stewed or steamed.  Of the more than 20 varieties of bok choy in Asia, there should be a few at your local Chinese or even Western supermarket.  (I have counted five at the Chinese markets where I live in Queens, NY.)  Depending on the variety, bok choy is available year-round, as some thrive in heat; others, in cold.
In additional to reaping the benefit of avoiding same-cooking-method boredom, preparing food in a different ways helps you get more nutritional bang for your buck.
Bok choy can have long or thick stems, and stalks in light green or white.  Its leaves range from greenish yellow to dark green. It is a wonderful source of vitamin C, calcium and vitamin A.  It also contains phytochemicals called glucosinolates, which may help prevent cancer. Bok choy with dark green leaves contain beta carotene as well.
I added the nutrient-rich bok choy to a recipe I found recently in celebrity chef Tyler Florence's "Eat This Book: Cooking with Global Fresh Flavors."  I have adjusted both the ingredients (to increase the variety of foods and vitamins) and the cooking method) to minimize the loss of nutrients).
Mixed Greens and Bean Salad with Creamy Lemon Dressing
Group 1:
A small bunch or "bouquet" of each of the following, stems trimmed:
sugar snap peas
snow peas (halved lengthwise)
green bean
soybean or mung bean sprouts
Group 2:
3 c of spring mix or baby greens
3 baby bok choy, stems removed, chopped into 1-inch pieces
1/2 head romaine lettuce, chopped into 1-inch pieces
1/2 each of red bell pepper, yellow pepper, orange pepper, julienned
2 Kirby cucumbers, peeled and cut into 1-inch matchsticks
1 c carrot, shredded
2 c tofu or part-skim mozzarella cheese, cubed
3 shallots, finely chopped
Dressing:
1 c walnut, finely chopped
2 Tbsp grainy mustard
2 Tbsp hot water (or as much as needed to achieve desired consistency)
1 tsp raw sugar
Juice of 1 lemon
2/3 c extra-virgin olive oil
1/2 c fat-free plain yogurt, well-drained
Kosher salt and freshly ground pepper
Steam Group 1 until tender-crisp (about 3 to 5 minutes). Transfer to a bowl of salted ice water to stop the cooking, and drain well. Transfer to a mixing bowl and toss in Group 2.
In a jar or bottle, combine Dressing ingredients. Put the cap on and shake vigorously. Check the consistency. If it's too thick, add more water and shake again. Pour the dressing over the salad just before you serve and toss well to coat.
Serves 4 to 6.
Related Articles:
Farm Fresh: Grilled Baby Bok Choy
Eat Your Gai Choy: Three Ways to Savor the Harvest from Immigrant Farmers
Image Credit: jspatchwork at flickr under a Creative Commons license