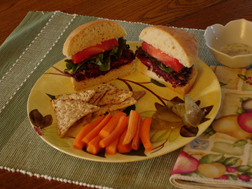 Fall ushers in burger season on our Wisconsin farm.  Beet burger season, that is.  These veggie burgers are house favorites here at Inn Serendipity farm and B&B.  Something about the red color and texture of the beets that cause even the committed meat burger eater to savor the veggie side of the bun.
This is a very adaptable, forgiving recipe—feel free to modify and experiment with ingredients.   Carrots can easily substitute for some of the beets.  The burgers freeze well (and taste surprisingly good cold), so we usually make a triple batch in a jumbo bowl.
Here's the recipe:
From Edible Earth:  Savoring the Good Life with Vegetarian Recipes from Inn Serendipity
Ingredients:
4 c. grated beets
½ c. onions, chopped
1 c. cooked rice
1 c. sunflower seeds
½ c. sesame seeds
2 eggs, beaten
2 T. soy sauce
1 c. cheddar cheese, grated
3 T. all-purpose flour
¼ c. vegetable oil
Directions:
*  Mix all ingredients well in a large bowl.  Easiest to mix with clean hands.
*  Form into patties and bake on heavily greased (we use vegetable oil) baking sheets at 350 degrees about 45 minutes. Cooked patties should be browned and firm.  Flip at about 40 minutes for the last five minutes of baking. May need to use a spatula to get patty off baking sheet.  Note:  This is one of those "you need to test your oven to determine baking temperatures and times."
Yield: approximately 12 burger patties.
Photo credit:  John Ivanko