Looking for a quick weeknight meal? Beef and Peppers can be prepared from scratch in less than thirty minutes.
Peppers, both chile and bell, have an excellent nutritional profile with vitamins C, A, and B-6. They're easy to grow in a backyard garden or pot on the patio and peppers are prolific, so you only need one or two plants of each of your favorite varieties.
I recommend buying grass-fed beef – organic, if possible, although I realize that can be pricey and not always easy to find. Grass-fed beef has more of the omega-3s that our bodies need. It tends to be leaner and I find the flavor profiles more varied and interesting.
Beef and Peppers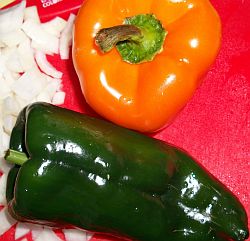 1 pound ground beef
1 teaspoon cumin
1 teaspoon oregano
1 teaspoon chili powder
1/2 teaspoon garlic powder
1 cup sweet onion, chopped
1 cup poblano pepper, chopped
1 cup bell pepper, chopped
1 tablespoon grapeseed oil, as needed
Brown the ground beef in a skillet over medium heat. When the pink is gone, add the cumin, oregano, chili powder, and garlic powder. Stir until fragrant, about a minute.
Spoon the beef from the skillet and set aside, leaving the fat from the beef in the skillet. You need about a tablespoon of fat. If you have more, drain the excess fat. If you have too little, add some grapeseed oil until you have enough.
Add the onions and cook until they are soft, about seven minutes. Stir occasionally, scraping up any fond left from the beef.
Add the poblano and bell pepper to the onions and continue stirring occasionally for another seven minutes. The pepper and onion mixture will shrink down to about half the original size.
Add the beef to the onions and peppers. Stir until warm, about two minutes.
Serve rolled up in a soft tortilla or use as a filling inside your favorite dinner roll recipe. A cool green salad on the side or even on top adds to the meal.